Brushless DC Motors & Matching Drives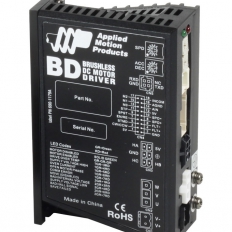 BD5-H2-AH Brushless DC Drive for 57mm 60W 24V motor
Brushless DC Drive for 57mm 60W 24V motor
Mclennan is delighted to act as stocking distributor and sales partner (UK, Ireland, and France) for the full range of Brushless DC Motors offered by Applied Motion Products from the USA. We hold many models in stock for immediate delivery and any motor from Applied Motion Products can be obtained on short lead times. For more information contact our Sales and Applications Engineering team.
The BD5-H2-AH is a compact and efficient drive for use with Applied Motion's BL060-H03-H series 57mm 60W brushless DC motors. It provides stable velocity control over a wide speed range. Motor speed can be controlled by an on-board trimpot, a 0-5 volt analog input, or via the drive's digital inputs. Dedicated stop and enable inputs are available, along with a dynamic braking feature that brings the motor to zero speed in a quick and controlled fashion. Each drive comes pre-configured for use with the matching brushless DC motor.
The mating I/O connector, populated with connector pins and 12" flying leads, is included with each drive. The mating DC power connector is also included.
The BL motors can plug directly into the BD drives. Extension cables are also available for longer distances between the drive and motor. Part number 3004-272-1M is a 1 meter extension cable and 3004-272-3M is a 3 meter extension cable.
Part Number(s)
5000-255-004
Control Modes
Velocity Control
Output Current, Continuous
3.2 A rms
Output Current, Peak
6.4 A rms
Setup Method
Switch / potentiometer
Analogue Inputs
1 (0 to 5 Vdc, 12 bit)
Dimensions
3.9 x 2.6 x 1.2 inches
Operating Temperature Range
0 to 100 °C
Ambient Temperature Range
0 to 40 °C
Ambient Humidity
90% max, non-condensing
Status LEDs
1 red, 1 green
Circuit Protection
Short circuit Over-voltage Under-voltage Over-temp