Panel Mount DC Motor Drives
Drives and Amplifiers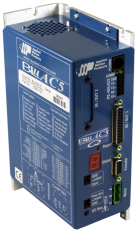 BLuAC5-Q, Q Programmable Servo Drive w/ Extended I/O
Q Programmable Servo Drive w/ Extended I/O
The BluAC5 servo drive provides a compact, reliable solution for a wide range of motion applications in a variety of industries. The BLuAC5 servo drive is designed to offer excellent performance coupled with hardware and software features that make it easy to integrate, use and maintain.
The BLuAC5 features a powerful digital signal processor (DSP) coupled with an efficient IGBT PWM amplifier. When combined with the BLuAC5's sophisticated, yet easy to tune position loop and velocity and acceleration feed-forward, a system capable of extremely high performance assures success in the most demanding applications.
All BLuAC5 drives are capable of running brushless, brushed, and linear servo motors. A timing wizard automatically configures the encoder and commutation timing for virtually any brushless or brushed DC motor. Tuning is easy with our Quick Tuner™ software, featuring a built-in digital oscilloscope.
Control Modes
•Streaming Commands,•Analog Positioning,•Encoder Following,•Q Programming
Output current,continous
5 A rms
Output Current, Peak
15.0 A rms
Feedback
Halls Incremental encoder
Analog Inputs
1 differential or 2 single-ended, /-10volts, 13bits differential
Dimensions
7.8 x 4.8 x 2.7 inches
Operating Temperature Range
N/A
Ambient Temperature Range
0 to 40 °C
Ambient Humidity
90% max, non-condensing
Status LEDs
7 segment display
Circuit Protection
•Short circuit, •Over-voltage, •Under-voltage, •Over-temp