Eurocard DC Motor Drives
Drives and Amplifiers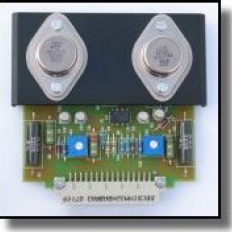 MSE40 series 6-12 Watt DC Servo Amplifier Module
6-12 Watt DC Servo Amplifier Module
The MSE40 series DC servo amplifier is ideally suited to instrumentation applications that require accurate velocity or positional control using analogue control techniques.
The unit is a circuit board module designed for incorporation in customers control cabinets. It can be used in conjunction with the DC power supply module type MSE47 which will power up to three MSE40 axes depending on the application's load requirements.
Two amplifier models are available, type MSE40 providing a maximum 0.5 Amps while MSE40-1 provides a maximum 1.0 amp output to the servo motor. The MSE40 series are 'in-service proven' amplifiers which have established a reputation for many years trouble-free service when used with the range of instrument servo motors and geared motor units.
Mclennan holds stock of various configurations in the UK for immediate delivery. For technical assistance and details of value added assemblies, including gearboxes and wiring / connector options please contact our sales and applications support team.
Output stage design
Low Noise Linear
Maximum output voltage
-14 to 14
Maximum continuous current
0.5 A
Input command signal range
± 12 V or 4-20 mA using external interface circuit
Velocity control options, feedback options
Bi-directional velocity control up to 100:1 speed range motor armature current or DC tachogenerator feedback
Position control options feedback options
Positional servo control up to 500:1 resolution. Analogue positional transducer, typically 2KΩ potentiometer