Eurocard DC Motor Drives
DC Motor Drive Power Supplies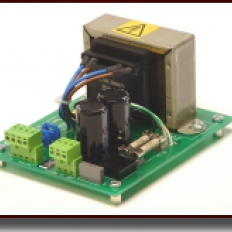 MSE47 Power Supply for the MSE40 Modular DC Servo Amplifier
Power Supply for the MSE40 Modular DC Servo Amplifier
The MSE47 is a power supply unit designed for chassis mounting. It has two unregulated DC outputs; +20V and –20V rated at 1.5A total, capable of supplying one MSE40-1 (1A) or three MSE40 (0.5A) servo channels at full power.
The mains input can be either 230 Vac or 115 Vac depending on pcb link selection. All of the power supply components including the fuse holders are mounted on a 2.5mm glass fibre pcb with 4 M4 threaded pillars for chassis mounting. The connections to the MSE47 are made via removable connectors with "rising clamp" style screw terminals.
The mains input should be protected by a separate external 1A anti-surge fuse.
Total output current
1.5A max, (60 VA)
Mains input voltage
115 or 230 Vac, 50 or 60 Hz
Mounting dimensions (threaded M4)
99 mm x 120 mm - 6mm max thread length