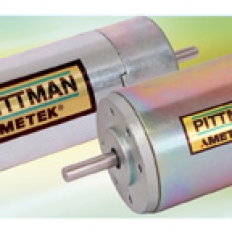 Pittman Brushed DC Motos
Brushed DC Motos
PITTMAN® brush DC servo motors are available in a variety of sizes and are highly customizable. A wide range of options includes different encoder resolutions, gears with reductions ranging from 4:1 to over 4000:1, and brakes. To optimize performance in unique applications, Pittman DC motors are available with various brush materials, permanent magnet materials, EMI/RFI suppression networks, bearing systems, and output shaft devices.
Mclennan holds stock of various configurations in the UK for immediate delivery. For technical assistance and details of value added assemblies, including gearboxes and wiring / connector options please contact our sales and applications support team.
We hold many models in stock for immediate delivery and any motor from Ametek Pittman can be obtained on short lead times. For more information contact our Sales and Applications Engineering team.
Diameter

Continuous Torque

Speed @ Cont. Torque

Rated Power

Voltage Range

Series

mm

inch

Nm

oz-in

RPM

watts

Vdc.

DC022C-1
(6212 DC Motor)

22.0

0.866

0.0056

0.80

4700

2.8

0 - 30.3

DC022C-2
(6213 DC Motor)

22.0

0.866

0.0092

1.3

5100

5.1

0 - 30.3

DC022C-3
(6214 DC Motor)

22.0

0.866

0.014

2.0

6400

9.7

0 - 30.3

DC026C-1
(8691 DC Motor)

26.0

1.024

0.013

1.9

4900

7

0 - 30.3

DC026C-2
(8692 DC Motor)

26.0

1.024

0.017

2.4

5500

10

0 - 38.2

DC026C-3
(8693 DC Motor)

26.0

1.024

0.023

3.2

7300

17

0 - 48

DC030B-1
(8222 DC Motor)

29.85

1.175

0.011

1.6

5200

6.1

0 - 48

DC030B-2
(8223 DC Motor)

29.85

1.175

0.014

2.0

6000

8.9

0 - 48

DC030B-3
(8224 DC Motor)

29.85

1.175

0.018

2.6

8100

15.7

0 - 48

DC030C-1
(8541 DC Motor)

30.0

1.181

0.018

2.5

4200

7.8

0 - 48

DC030C-2
(8542 DC Motor)

30.0

1.181

0.040

5.6

5300

23

0 - 48

DC030C-3
(8543 DC Motor)

30.0

1.181

0.059

8.3

4500

30

0 - 48

DC040B-1
(9232 DC Motor)

40.1

1.580

0.017

2.4

5300

9

0 - 48

DC040B-2
(9233 DC Motor)

40.1

1.580

0.033

4.7

4900

17

0 - 48

DC040B-3
(9234 DC Motor)

40.1

1.580

0.043

6.1

5000

23

0 - 48

DC040B-4
(9235 DC Motor)

40.1

1.580

0.049

6.9

5400

28

0 - 48

DC040B-5
(9236 DC Motor)

40.1

1.580

0.067

9.5

4000

28

0 - 48

DC040B-6
(9237 DC Motor)

40.1

1.580

0.081

11.5

4400

38

0 - 60.0

DC054B-1
(14201 DC Motor)

54.0

2.125

0.071

10.0

3300

25

0 - 60.6

DC054B-2
(14202 DC Motor)

54.0

2.125

0.099

14

3500

36

0 - 60.6

DC054B-3
(14203 DC Motor)

54.0

2.125

0.15

21

3000

46

0 - 60.6

DC054B-4
(14204 DC Motor)

54.0

2.125

0.18

26

3200

62

0 - 60.6

DC054B-5
(14205 DC Motor)

54.0

2.125

0.22

31

2600

60

0 - 60.6

DC054B-6
(14206 DC Motor)

54.0

2.125

0.26

37

2800

76

0 - 60.6

DC054B-7
(14207 DC Motor)

54.0

2.125

0.35

50

2800

108

0.76.4

DC057B-1
(ID23000 DC Motor)

57.2

2.25

0.21

30

6000

101

0 - 60

DC057B-1
(ID23001 DC Motor)

57.2

2.25

0.21

30

6000

93

0 - 60

DC057B-2
(ID23004 DC Motor)

57.2

2.25

0.35

50

4100

131

0 - 60

DC057B-3
(ID23005 DC Motor)

57.2

2.25

0.40

57

3400

128

0 - 60

DC057B-1
(ID23205 DC Motor)

57.2

2.25

0.21

30

6000

101

0 - 60

DC057B-3
(ID23206 DC Motor)

57.2

2.25

0.40

57

3400

128

0 - 60

57.2

2.25

0.40

57

3400

128

0 - 60

57.2

2.25

0.40

57

4100

131

0 - 60

57.2

2.25

0.21

30

6000

93

0 - 60

57.2

2.25

0.21

30

6000

93

0 - 60

DC083B-1
(ID33001 DC Motor)

82.6

3.25

0.53

75

4900

165

0 - 90

DC083B-2
(ID33002 DC Motor)

82.6

3.25

0.85

120

4000

245

0 - 90

DC083B-3
(ID33003 DC Motor)

82.6

3.25

0.85

120

4400

323

0 - 90

DC083B-4
(ID33004 DC Motor)

82.6

3.25

1.20

170

3200

371

0 - 90

DC083B-2
(ID33005 DC Motor)

82.6

3.25

1.59

225

6000

447

0 - 90

DC083B-1
(ID33901/ID33902 DC Motor)

82.0

3.23

0.66

93

4000

135

0 - 60

DC083B-3
(ID33904/ID33905 DC Motor)

82.0

3.23

1.41

200

4000

280

0 - 60