Panel Mount DC Motor Drives
Brushless DC Servo Motors & Drives
Drives and Amplifiers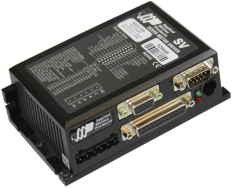 SV7-S-AF, Motion Controller Compatible Servo Drive
Motion Controller Compatible Servo Drive
Mclennan is delighted to act as stocking distributor and sales partner (UK, Ireland, and France) for the full range of Servo drives offered by Applied Motion Products from the USA. We hold many models in stock for immediate delivery and any motor from Applied Motion Products can be obtained on short lead times. For more information contact our Sales and Applications Engineering team.
The SV series servo drives are suitable for a wide range of motion applications. They are built around a powerful digital signal processor coupled to an efficient MOSFET PWM amplifier. The SV drives include 12 optically isolated I/O points plus analog inputs. A sophisticated, yet easy to tune position loop has independent digital settings for proportional, integral and derivative gains plus velocity feedback and velocity and acceleration feedforward.
All SV drives are capable of running brushless, brushed, and linear servo motors. A timing wizard automatically configures the encoder and commutation timing for virtually any brushless or brushed DC motor. Tuning is easy with our Quick Tuner™ software, featuring a built-in digital oscilloscope.
Output Current, Continuous
Step and Direction Analog Torque / Velocity Streaming Commands
Output Current, Continuous
7.0 A rms
Output Current, Peak
14.0 A rms
Communication Ports
RS-232
Feedback
Halls Incremental encoder
Setup Method
Software setup
Analog Inputs
1 differential or 2 single-ended
Dimensions
5 x 3 x 1.78 inches
Operating Temperature Range
N/A
Ambient Temperature Range
0 to 40 °C
Ambient Temperature Range
90% max, non-condensing
Status LEDs
1 red, 1 green
Circuit Protection
Short circuit Over-voltage Under-voltage Over-temp