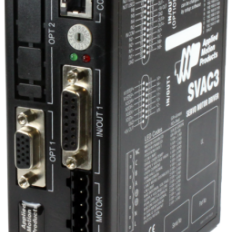 SVAC3-S-E120, Digital Servo Drive w/ Ethernet
Digital Servo Drive w/ Ethernet
Mclennan is delighted to act as stocking distributor and sales partner (UK, Ireland, and France) for the full range of Servo drives offered by Applied Motion Products from the USA. We hold many models in stock for immediate delivery and any motor from Applied Motion Products can be obtained on short lead times. For more information contact our Sales and Applications Engineering team.
The SVAC3-S-E120 is a compact and cost-effective servo drive that is compatible with a variety of servo motors and a great choice for many OEM applications. Its all-digital design and DSP-based current control allow for smooth motion and a quick response from the specially matched set of Applied Motion motors available with it. Power to the drive comes from single-phase 120 VAC and the drive can output up to 3.5 A rms continuous, 7.5 A rms peak to the servo motor. The drive also has built-in protection features like over-voltage, over-temperature, and over-current, which prevent damage to the drive while running in adverse conditions.
The SVAC3-S-E120 can operate in analog torque/velocity, pulse & direction, and streaming serial (SCL) control modes. Select the control mode, tune the servo motor and configure the drive using the Quick Tuner™ software.
For connecting to external devices such as limit switches, proximity or photoelectric sensors, PLC I/O, lamps, and other devices, the drive comes with 4 digital inputs, 2 digital outputs, and 1 analog input. The drive also features an Ethernet port for configuration and communications. The Ethernet port is fast 10/100 Mbit, and the drive supports both TCP and UDP communication protocols.
This servo motor drive is UL Recognized (File No. E332730), CE approved, and RoHS compliant.
Supply Voltage
108-132 VAC
Control Modes
•Step and Direction •Analog Torque / Velocity •Streaming Commands
Output Current, Continuous
3.5 A rms
Output Current, Peak
7.5 A rms
Communication Ports
•Ethernet
Feedback
Halls Incremental encoder
Setup Method
Software setup
Analogue Inputs
1 single-ended
Dimensions
5.5 x 4.5 x 2.0 inches
Operating Temperature Range
0 to 70 °C
Ambient Temperature Range
0 to 55 °C
Ambient Humidity
90% max, non-condensing
Status LEDs
1 red, 1 green
Circuit Protection
•Short circuit •Over-voltage •Under-voltage •Over-temp