HLMT - Rotary Actuators for Servo and Stepper motors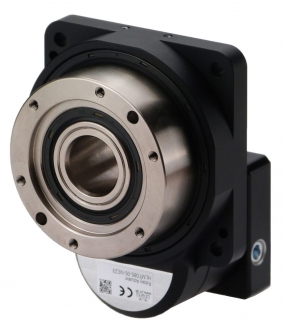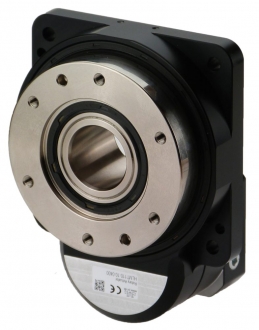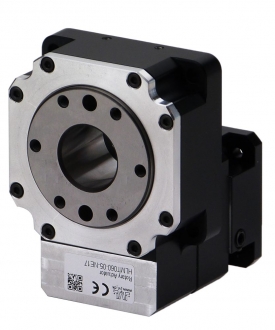 JVLs new series of Hollow Rotary Actuators, HLMT, offer the easiest possible installation of rotary table applications. Depending on your application you can choose between servo and stepper motors – with or without built-in (absolute) encoders.
Mechanically they are ready to install – and mounting of rotating discs have never been easier. At the same time you gain the usual benefits of integrated motors also making electrical installation simple.
Complete Rotary Actuator
Integrated Step or Servo motor
Easy point-n-click programming
All Ethernet protocols
Soon there will be an option for the HLMT-SENSOR-KIT: Fork sensor and metal clamp (both for direct mounting onto the turn table) including small bolts. Used for Reference-signal
(1 time per rev) or Homing.
No need for space in your electrical cabinet: drive and control electronics are built-in.
The full Hollow Rotary Actuator package consist of:
Hollow Rotary Table, HLMT, in a suitable size (see below table)
Integrated Servo or Stepper motor, MIS 176…341 and MAC400
In case of servo (MAC motor®): a Control Module of your own choice
The usual cables
Hollow Rotary Actuators, HLMT

HLMT060-05*-NE17

HLMT085-05*-NE23

HLMT110-05*-NE34

HLMT110-10*-0400

MAC800 placeholder

MAC3000 placeholder

Motor Type, recommended
MIS176S35..
MIS232S1
MIS341C12..
MAC400, MAC402
Input Flange for Motor
NEMA17 - Ø8mm
NEMA23
NEMA34
400 W Servo
Input Shaft Diameter
mm
8.0
6.35
9.53
14.0
Nominal Output Torque
Nm
5.0
18
33
33
Max. Input Torque
Nm
1.0
3.6
6.6
3.3
Input Speed Max.
RPM
1500
1500
1500
3000
Output Speed Max.
RPM
300
300
300
300
Gear Ratio
5:1
5:1
5:1
10:1
Motor Max Peak Torque
%
100 @5:1
100 @5:1
100 @5:1
260 @10:1
Possible Gear Ratios*

05; 5:1

10; 10:1

18; 18:1

05; 5:1
10; 10:1
18; 18:1
05; 5:1
10; 10:1
18; 18:1
05; 5:1
10; 10:1
18; 18:1
Gear Reducer Inertia
kgcm2
0.78
12.7
15.6
15.6
Repetitive Positioning Accuracy
arcsec degree
±10
±0.0028°
±10
±0.0028°
±10
±0.0028°
±10
±0.0028°
Lost Motion
arcmin degree
2
±0.033°
2
±0.033°
2
±0.033°
2
±0.033°
Axial Load
N
350
600
800
800
Permissible Torque Load
Nm
7
12
16
16
Runout of Output Table Surface
mm
0.015
0.015
0.015
0.015
Parallelism of Platform
mm
0.025
0.025
0.025
0.025
Protection Class
IP65
IP65
IP65
IP65
Weight w/o Motor
kg
0.54
1.2
2.5
2.5