Portescap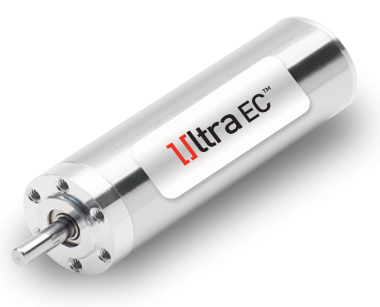 Portescap offers one of the broadest miniature motor product lines in the industry, encompassing a wide range of motor technologies to develop the highest performance and most cost-effective motion control solutions available. Building upon a tradition of manufacturing excellence and driven by a passion for innovation, Portescap leverage over 70 years of experience in miniature motion solutions to put precise power in the smallest places.
Specialising in advanced servo and stepper drive technologies, Portescap's product range includes - Brush DC, Brushless DC, Stepper Can Stack, Stepper Disc Magnet, Linear Actuators, Gearboxes and Encoders. Designed in Switerzland, produced in India and are supplied in the UK by Mclennan Servo Supplies.
Portescap is unique among miniature motor manufacturers with their brand of precision ironless DC and brushless DC motors, and DMM disc magnet step motors. Portescap products with Mclennan's expertise are used successfully around the world in thousands of diverse applications ranging from medical devices, scientific instruments and factory automation equipment.
For more information please visit the Portescap website http://www.portescap.com/
Products from this supplier
Brushed DC Servo Motors
Brushless DC Motors & Matching Drives
| | | |
| --- | --- | --- |
| 16BHS 2-wires Brushless DC Slotless Motor | Brushless DC Slotless Motor | View product |
| 16ECP36 ULTRA EC | Ultra EC Slotless Brushless DC Motor | View product |
| 16ECP52 ULTRA EC | Ultra EC Slotless Brushless DC Motor | View product |
| 21BF NUVODISC | Slotless Brushless DC Flat Motor | View product |
| 22ECP45 ULTRA EC | Slotless Brushless DC Mini Motor | View product |
| 22ECP60 ULTRA EC | Slotless Brushless DC Mini Motor | View product |
| 22ECS45 ULTRA EC | Ultra EC Slotless Brushless DC Motor | View product |
| 22ECS60 ULTRA EC | Ultra EC Slotless Brushless DC Motor | View product |
| 22ECT60 ULTRA EC | Slotless Brushless DC Mini Motor | View product |
| 22ECT82 ULTRA EC | Slotless Brushless DC Mini Motor | View product |
| 26BC 3C Brushless DC Slotless Motor | Brushless DC Slotless Motor | View product |
| 26BC 6A Brushless DC Slotless Motor | Brushless DC Slotless Motor | View product |
| 32BF NUVODISC | Slotless Brushless DC Flat Motor | View product |
| B0508 Brushless DC Slotted Motor | Brushless DC Slotted Motor | View product |
| B0512 Brushless DC Slotted Motor | Brushless, DC, Slotted, Motor | View product |
| B0517 Brushless DC Slotted Motor | Brushless DC Slotted Motor | View product |
| B0610 Brushless DC Slotted Motor | Brushless DC Slotted Motor | View product |
| B0614 Brushless DC Slotted Motor | Brushless DC Slotted Motor | View product |
| B0616 Brushless DC Slotted Motor | Brushless DC Slotted Motor | View product |
| B0906 Brushless DC Slotted Motor | | View product |
| B0909 Brushless DC Slotted Motor | Brushless DC Slotted Motor | View product |
| B0912 Brushless DC Slotted Motor | Brushless DC Slotted Motor | View product |
Brushless DC Servo Motors & Drives
| | | |
| --- | --- | --- |
| 21BF NUVODISC | Slotless Brushless DC Flat Motor | View product |
| 22ECP60 ULTRA EC | Slotless Brushless DC Mini Motor | View product |
| 32BF NUVODISC | Slotless Brushless DC Flat Motor | View product |
DC Coreless Motors
Incremental Kit Encoders (often fitted to our motors)
Linear Actuators - Stepper
| | | |
| --- | --- | --- |
| 20DAM-K Permanent Magnet Stepper Digital Linear Actuator | Permanent Magnet Stepper Digital Linear Actuator | View product |
| 20DAM-L Permanent Magnet Stepper Digital Linear Actuator | Permanent Magnet Stepper Digital Linear Actuator | View product |
| 20DBM-K High Power Stepper Linear Actuator | High Power Stepper Linear Actuator | View product |
| 20DBM-L High Power Stepper Linear Actuator | High Power Stepper Linear Actuator | View product |
| 26DAM-K Permanent Magnet Stepper Digital Linear Actuator | Permanent Magnet Stepper Digital Linear Actuator | View product |
| 26DAM-L Permanent Magnet Stepper Digital Linear Actuator | Permanent Magnet Stepper Digital Linear Actuator | View product |
| 26DBM-K Permanent Magnet Stepper Digital Linear Actuator | Permanent Magnet Stepper Digital Linear Actuator | View product |
| 26DBM-L Permanent Magnet Stepper Digital Linear Actuator | Permanent Magnet Stepper Digital Linear Actuator | View product |
| 35DBM-K Permanent Magnet Stepper Digital Linear Actuator | Permanent Magnet Stepper Digital Linear Actuator | View product |
| 35DBM-L Permanent Magnet Stepper Digital Linear Actuator | Permanent Magnet Stepper Digital Linear Actuator | View product |
| 42DBL-K Permanent Magnet Stepper Digital Linear Actuator | Permanent Magnet Stepper Digital Linear Actuator | View product |
| 42DBL-L Permanent Magnet Stepper Digital Linear Actuator | Permanent Magnet Stepper Digital Linear Actuator | View product |
| 57DBM-L Permanent Magnet Stepper Digital Linear Actuator | Permanent Magnet Stepper Digital Linear Actuator | View product |
Miniature Housed Incremental Encoders
Permanent & Disc Magnet Stepper Motors
| | | |
| --- | --- | --- |
| 15M020D -Tin Can Stepper Motor | Tin Can Stepper Motor | View product |
| 20M020D - Tin Can Permanent Magnet Stepper Motor | Tin Can Permanent Magnet Stepper Motor | View product |
| 26M024B - Tin Can Permenant Magnet Stepper Motor | Tin Can Permenant Magnet Stepper Motor | View product |
| 26M024D - Tin Can Permenant Magnet Stepper Motor | Tin Can Permenant Magnet Stepper Motor | View product |
| 26M048B - Tin Can Permanent Magnet Stepper Motor | Tin Can Permanent Magnet Stepper Motor | View product |
| 26M048D - Tin Can Permanent Magnet Stepper Motor | | View product |
| 35L024B - Tin Can Permanent Magnet Stepper Motor | Tin Can Permanent Magnet Stepper Motor | View product |
| 35L048B - Tin Can Permanent Magnet Stepper Motor | Tin Can Permanent Magnet Stepper Motor | View product |
| 35L048D- Tin Can Permanent Magnet Stepper Motor | Tin Can Permanent Magnet Stepper Motor | View product |
| 35M024B- Tin Can Permanent Magnet Stepper Motor | Tin Can Permanent Magnet Stepper Motor | View product |
| 35M048B - Tin Can Permanent Magnet Stepper Motor | Tin Can Permanent Magnet Stepper Motor | View product |
| 35M048D - Tin Can Permanent Magnet Stepper Motor | Tin Can Permanent Magnet Stepper Motor | View product |
| 42L048D - Tin Can Permanent Magnet Stepper Motor | Tin Can Permanent Magnet Stepper Motor | View product |
| 42M048C - Tin Can Permanent Magnet Stepper Motor | Tin Can Permanent Magnet Stepper Motor | View product |
| 42S048D - Tin Can Permanent Magnet Stepper Motor | Tin Can Permanent Magnet Stepper Motor | View product |
| 42S100D - Tin Can Permanent Magnet Stepper Motor | Tin Can Permanent Magnet Stepper Motor | View product |
| P010 064 Disc Magnet Stepper Motor | Disc Magnet Stepper Motor | View product |
| P010 104 Disc Magnet Stepper Motor | Disc Magnet Stepper Motor | View product |
| P110 064 Disc Magnet Stepper Motor | Disc Magnet Stepper Motor | View product |
| P110 104 Disc Magnet Stepper Motor | Disc Magnet Stepper Motor | View product |
| P310 Disc Magnet Stepper Motor | Disc Magnet Stepper Motor | View product |
| P430 Disc Magnet Stepper Motor | Disc Magnet Stepper Motor | View product |
| P520 Disc Magnet Stepper Motor | Disc Magnet Stepper Motor | View product |
| P532 Disc Magnet Stepper Motor | Disc Magnet Stepper Motor | View product |
| P532 EN Disc Magnet Stepper Motor With Encoder | Disc Magnet Stepper Motor With Encoder | View product |
| P760 EN Disc Magnet Stepper Motor With Encoder | Disc Magnet Stepper Motor With Encoder | View product |
| PP520 Disc Magnet Stepper Motor | Disc Magnet Stepper Motor | View product |
Synchronous Motors
| | | |
| --- | --- | --- |
| 20M Series AC Synchronous Motor | AC Synchronous Motor | View product |
| 26M Series AC Synchronous | AC Synchronous Motors | View product |
| 35L Series AC Synchronous Motors | AC Synchronous Motors | View product |
| 35M Series AC Synchronous Motor | AC Synchronous Motor | View product |
| 42M AC Synchronous Motor | AC Synchronous Motor | View product |