AMP's Expands stepSERVO™ Range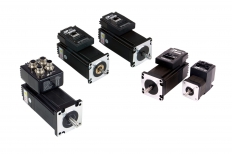 Ash Vale, Surrey, UK – July 2015: Applied Motion Products Inc. (AMP), the USA based motion innovator has expanded its range of stepSERVO™ integrated motors to include an Ethernet/IP networking series and an IP65 rated series for wet and dusty environments. Available in the UK from Mclennan, AMP's European distribution partner, the new models complement the previously launched TSM series stepSERVO integrated packages that combine a microstepping motor + digital drive + 5000 line encoder + advanced motion controller. Bringing together stepper motor simplicity with servo system performance, this cost effective motion solution offers closed loop servo feedback and the ability to create peak motor torques up to 50% higher than the normal torque range of the same stepper motor running open loop.
The new products expand the application capability of the range with the SSM series offering three sizes of NEMA23 frame motors with an Ethernet (RJ-45) port for programming and for EtherNet/IP industrial networking, whilst the new TXM series takes the main features of the range and adds IP65 rated environmental protection measures in NEMA24 frame stepper motor packages.
In summary, the complete stepSERVO range now features energy efficient, cool running and high torque NEMA 17, 23 and 24 frame stepper motor packages with full high-accuracy position and velocity closed loop control from pulse or 0…10V analogue signals; or alternatively Ethernet/IP, Modbus/RTU or CANopen multi-axis networking; or pre-programmed stand-alone operation using AMP's 'Q' motion programming software. The torque range covers 0.28 Nm to 2.4 Nm, whilst motor speeds up to 3600 rpm and encoder resolutions of 20,000 counts/rev - suiting a very wide range of motion control applications including packaging automation, automated test, parts handling, pick and place, positioning stages, life sciences and more.
About Mclennan
Mclennan works closely with a small number of global motion control manufacturers and with its own in-house design and manufacturing capability the Hampshire based motion specialist offers complete integrated mechatronics assemblies with customised mechanics, gearheads and other power train components. Motor technologies include brushed and brushless servo motors, stepper motors, small AC motors and complementary gear unit drive technologies together with motion controls for competitively priced multi-axis motion and machine control for use throughout industrial and OEM automated machine applications – contact Mclennnan at sales@mclennan.co.uk
---
Ash Vale, Surrey, UK – Juillet 2015: Applied Motion Products Inc (AMP) innovateur de mouvement a élargit sa gamme de moteurs intégrés stepSERVO™ pour y inclure une série Ethernet/IP et une série IP65 pour environnements humides et poussiéreux. Disponibles au Royaume-Uni chez Mclennan, partenaire d'AMP pour la distribution européenne, les nouveaux modèles complètent les ensembles intégrés de la série TSM précédemment lancée et combinent un moteur à micropas + variateur numérique + encodeur 5000 lignes + contrôleur de mouvement avancé. En réunissant la simplicité d'un moteur pas à pas avec les performances d'un système d'asservissement, cette solution de mouvement économique propose une boucle d'asservissement fermée et la capacité d'atteindre des pointes de couple supérieures, jusqu'à plus de 50% de la plage normale du même moteur fonctionnant en boucle ouverte.

Ces nouveaux produits élargissent les possibilités d'applications, avec la série SSM qui offre trois dimensions de moteurs NEMA23 avec un port Ethernet (RJ-45) pour la programmation et pour le réseau industriel EtherNet/IP, tandis que la nouvelle série TXM reprend les principales caractéristiques de la gamme et ajoute un niveau de protection IP65 aux moteurs NEMA24. Toute la gamme des stepSERVO dispose désormais de très bonnes caractéristiques éconergétiques, un fonctionnement doux et un couple élevé dans toutes les tailles NEMA 17, 23 et 24 avec un contrôle en boucle fermée en vitesse et en position ultra précis à partir d'impulsions ou d'un signal analogique 0-10V; ou encore Ethernet /IP, Modbus/RTU ou réseau multiaxes CANopen; ou fonctionnement autonome préprogrammé à l'aide du logiciel de programmation de mouvements 'Q' d'AMP.
La plage de couple couvre 0,28 Nm à 2,4 Nm, tandis que le moteur accélère jusqu'à 3600 rpm avec des résolutions d'encodeurs de 20.000 counts/rev - convenant à une très large gamme d'applications de commande de mouvement, y compris l'automatisation en packaging, les tests automatisés, la manipulation des pièces, saisir et poser, tables de positionnement, les sciences de la vie et plus encore.
A propos de Mclennan
Mclennan, qui travaille en étroite collaboration avec un faible nombre de fabricants mondiaux spécialisés en contrôle de mouvement, dispose de sa propre capacité de conception et de fabrication en interne proposant des ensembles mécatroniques complets et des mécaniques personnalisées, des réducteurs et d'autres composants de la chaîne cinématique. En matière de technologies de moteurs on retrouve les moteurs et servomoteurs avec et sans balais, les moteurs pas à pas, les petits moteurs à courant alternatif avec tous les réducteurs associés ainsi que les variateurs et contrôleurs de mouvement pour un prix compétitif en commande mono ou multi-axes de machines automatisées industrieles et OEM – Contactez Mclennan à sales@mclennan.co.uk