Applied Motion Products Inc. launch new servo drives, motors and more for AGV and AMR applications – available from Mclennan
Recently announced by Applied Motion Products (AMP) and available in the UK and Europe with full support from Mclennan, a new range of 48 VDC brushless DC servo motors with durable 16-bit magnetic encoders and compatible high-current single/dual axis drives are aimed at AGV and AMR applications. These new AGV industry related products are the first of a range standard and application customised components from the leading USA motion systems manufacturer and will be followed by higher power single and dual/multiaxis drives, integrated motor/drives, AGV motion controls, bespoke wheel, and hub drive assemblies as well as mounting and suspension mechanics and more.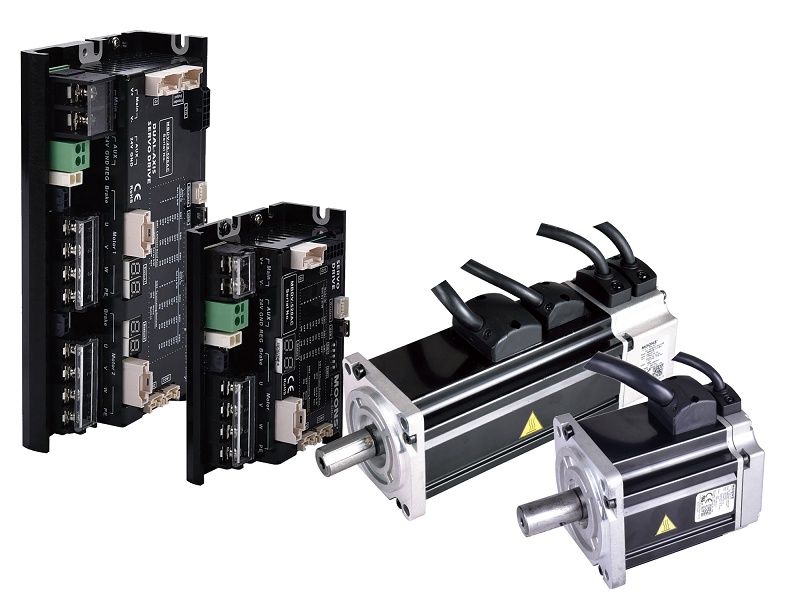 With CANopen, Modbus and CiA301/CiA402 compliancy – prerequisite features for the AGV industry - the new MBDV servo drive range has a 20A continuous/60A peak performance rating, a complement of digital IO and optional braking & regen controls plus safety features including E-stop and STO (SIL2) compliance. The new SM series brushless DC servo motors, available in 400 W and 750 W models, provide energy efficient usage for battery powered vehicles and are available with optional electromagnetic brakes and are IP65 rated. In particular the highly durable magnetic encoder is especially suited to AGV applications; a 1000-line optical encoder is also available. Commissioning these components is made easy thanks to AMP's Luna configuration and programming software which includes an auto-tuning function for highly accurate PID loop control as well as tools for monitoring up to four channels including a scope function, editable parameter tables and more.

As an exclusive distribution partner for AMP, the leading USA motion components manufacturer, Mclennan provides comprehensive application support from initial project development through to series supply. For complete details on AMPs new range of AGV and AMR related components and systems, or for information on Mclennan's broad range of stepper and servo-based motion and mechatronics components and systems solutions, call +44 (0) 1252 531444, email sales@mclennan.co.uk or visit www.mclennan.co.uk.