Applied Motion Products launches new miniature integrated motor with Power over EtherNet: stepSERVO™ series closed loop positioner has novel power source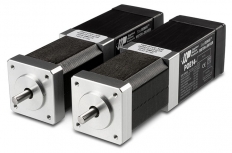 Applied Motion Products Inc. (AMP), the USA based motion innovator has launched a Power over Ethernet (PoE) enabled integrated miniature microstepping motor package that combines a closed-loop digital drive, feedback encoder and an Ethernet-supported motion controller as a single-cable positioning solution. With PoE linked drive/controller power and Ethernet communications over a single cable the unique TSM14POE series, based on AMP's well proven StepSERVO™ technology, will bring a new level of application capability for miniature decentralised automation tasks with time and cost savings through simplified wiring as well as compactness and location flexibility. Available from Mclennan - AMP's European distribution partner – the NEMA size 14 integrated motor could be applied to existing PoE-linked devices such as IP Camera systems to add positioning capability, or to miniature automated devices such as robotics, end effectors, small actuators and medical instruments.
AMP's StepSERVO™ technology provides greater torque, higher acceleration rates, better efficiency, decreased motor heating, and less audible noise than traditional, open-loop step motor systems. For the new TSM14POE series the drive stage is combined with an integral 4096 ppr magnetic encoder providing high accuracy position and speed feedback through a choice of industrial Ethernet protocols including Ethernet TCP/IP, EtherNet/IP and Modbus TCP. Motion control via AMP's Q Programming language enables axis positioning plus motion profiles with maths and conditional functions available along with stored program execution for machine interaction over Ethernet.
The TSM14POE is compatible with IEEE 802.3at Type 2 specifications for PoE+ and with switches and injectors that support the standard. A choice of models offer X-coded M12 or modular RJ-45 connectors for application flexibility. Both have square nominal housing dimensions of 35 mm x 35mm with the slightly longer M12 connector option being approximately 109 mm, and 99 mm for the RJ-45 option. Speed and torque characteristics are application dependent with nominal holding torque in the region of 0.4 Nm. Additionally, AMP and Mclennan offer the TSM14POE series complete with integrated low-backlash planetary gearheads in a wide range of ratios where increased torque performance is required.
TSM series stepServo™ integrated motors are also available in larger and smaller frame sizes with conventional power supply requirements. Users can choose from NEMA size 11 to 34 packages with torque output from around 0.1 to over 8 Nm with a wide selection of control and interfacing options. Motor speeds up to 3600 rpm and encoder resolutions of 20,000 counts/rev make the range suitable for a very wide range of motion control applications.
With distribution partnerships and its own comprehensive design and build service available, Mclennan provides stepper and servo motor based automation solutions from single components to complete mechatronic assemblies. For more information visit www.mclennan.co.uk, email sales@mclennan.co.uk or call +44 (0) 1252 531444.