Extremely powerful, high-force electric linear actuators: Mclennan and Creative Motion Control sign distribution agreement
Mclennan, the leading motion control component supplier and systems integrator has signed a distribution agreement with the USA-based electric linear actuator, roller screw and grooved roller bearing designer and manufacturer Creative Motion Control (CMC). Formed in 2002, and with a growing reputation for its innovative approach to motion engineering, CMC's products are characterised by their exceptional durability, extremely high-force capacity, superior power density and long maintenance-free life. Mclennan are excited to take on the new range and particularly enthused with the CPD-series high force linear actuators that combine CMC's precision roller screw and patented grooved roller bearing components to offer dramatically higher loads and longer life than similarly sized actuators on the market. With the possibility to select much more compact package sizes for the same power ratings, these attributes perfectly suit cost-effective applications in presses, broaching or stamping machines, injection moulding machines, hydraulic cylinder replacement and anywhere where controlled high linear force and/or precision positioning is required.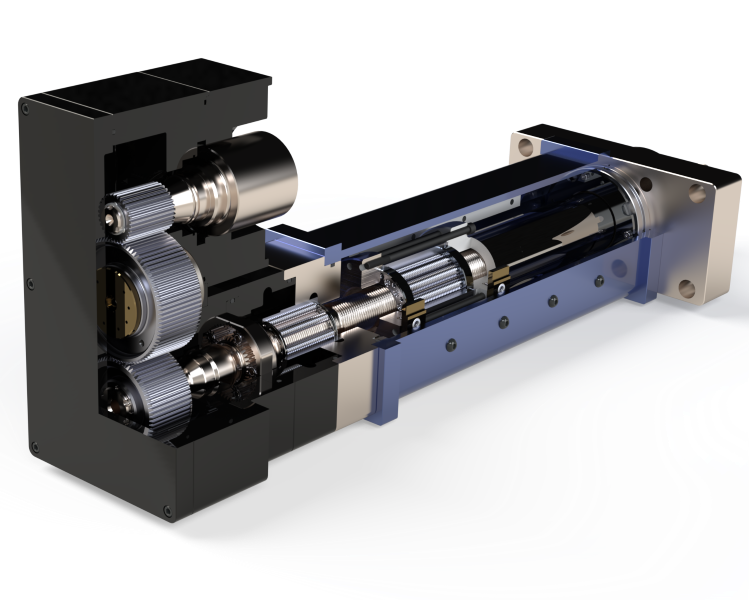 Image: CMC's CPD-series linear actiuators – cutaway view
CMC's CPD series linear actuators feature an inline or straight-through motor mounting geometry that is compatible with virtually any manufacturer's servo or stepper motors. The maximum standard product size, the CPD-800, has a square section size of around 203 mm x 203 mm and a stroke length from 100 mm to 1.5 metres, and can produce a maximum continuous force of 423 kN (motor dependant). The smallest standard size, the CPD-250, with a 63.5 mm square section produces 30 kN. These impressive specifications hold true with repeatability of around 0.02 mm and maximum actuator backlash of 0.075 mm. The robust actuator's static force capability is equally impressive. These convincing specifications are directly due to the drive chain design that utilises CMC's roller screw and patented grooved roller bearing components, enabling a size-for-size comparison that far outperforms the competition that relies on traditional ballscrew drives and ball or roller bearing support mechanics. The IP67 rated actuators also feature CMC designed and manufactured planetary gearboxes to suit application load and speed requirements - ensuring positioning precision is maximised rather than use spur gears or belt drive reduction mechanics. A wide choice of mechanical interfacing includes clevis pin, foot, flange or trunnion mounts, threaded rod ends etc. The CPD series is also available with a unique oil lubrication system yielding the actuator maintenance-free for the life of the unit for most applications.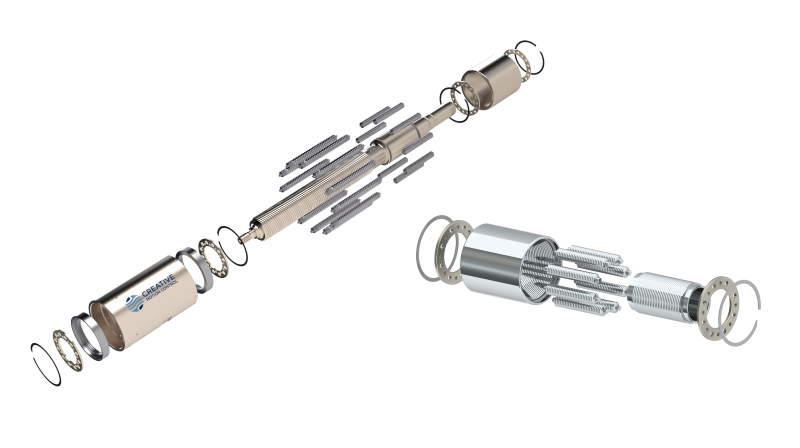 Image: CMC's roller screw and grooved roller bearing – exploded view
CMC's precision roller screws employ threaded rollers instead of the ball bearings that are used in ball screws, providing a much larger contact surface for load transfer. This correlates to a much higher stiffness and shock resistance plus increased load capacity and longer life. CMC's unique and patented grooved roller bearings utilise a grooved inner and outer race with grooved rollers sandwiched in-between and held captive with retainer rings. This compact bearing arrangement offers much longer life and much higher load capacity than angular contact bearings, ultimately exceeding the life of traditional bearings by a factor of 5 to 10. Available as thrust, radial and 'combo' bearings their increased size-for-size load capability allows smaller bearings sizes to be used, and furthermore CMC's flexibility in manufacture can allow for customisation in size and materials opening possibilities for non-magnetic or other environment-sensitive installation. This technology also lends itself to pre-lubricated bearing designs that provide maintenance-free use and extended life for some applications.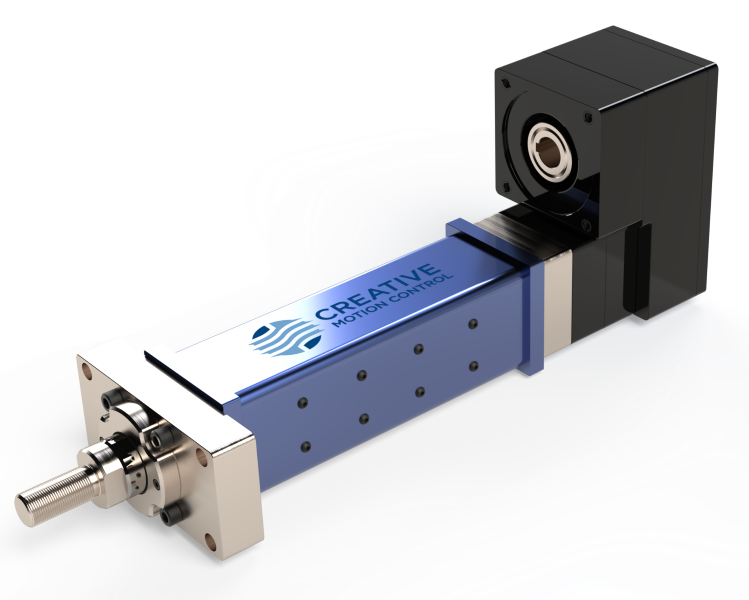 Image: CMC's CPD series actuators – available from Mclennan
CMC also manufacture an alternative actuator range, the LPD series, that employs its roller screw technology and standard support bearings for application areas that may not require such high-performance. CPD and LPD series actuators may be fitted with limit switches, absolute linear encoders, load sensors and flexibility in design is assured with a complete customisation service where required.
The high efficiency of the individual roller screw and grooved bearing components as well as the overall performance of CMC's linear actuators also offer energy cost savings and overall TCO can be reduced due to increased life and low maintenance factors.
With its own design and production capability and distribution partnerships with leading motion component manufacturers, Mclennan's engineers can assist with motor sizing, drive technology and motion controls across CMC's complete range of actuators as well as selection assistance and dimensioning for the roller screw and grooved roller bearings. For further details on CMC's actuators and components, please visit www.mclennan.co.uk, email sales@mclennan.co.uk, or call +44 (0) 1252 531444.