High-speed synchronised motion and machine control for Industry 4.0 and IIoT: JVL announce EtherCAT® CiA402 drive profile for integrated servo and stepper motor range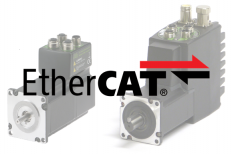 Recently announced by JVL Industri Elektronik A/S, and available in the UK with full support from Mclennan, the Danish motion controls designer and manufacturer has enhanced its range of Industrial Ethernet (IE) motion control modules to include the CiA402 drive profile for its EtherCAT protocol option. This brings support for EtherCAT synchronized position (CSP) and synchronized velocity (CSV) modes which means millisecond-level motion and machine synchronisation capability with extremely low jitter for demanding high-speed automation tasks.
With the real benefit of straightforward installation directly on the machine with minimum wiring and reduced hardware, the EtherCAT module is available across JVL's integrated stepper and integrated servomotor offerings that combine motor, drive, and optional feedback plus motion controllers with opto-isolated digital I/Os as single housed packages. JVL's MAC motor® integrated brushless servo motors are available for motor power to 13.5 kW peak, and its ServoStep integrated stepper motors cover torques to 25 Nm. The comprehensive range covers direct-on-line and DC powered variants and various protection ratings including IP55 to IP66, and stainless steel IP67 versions that perfectly suit demanding environment applications for food and medical industries.
Aimed firmly at demanding Industry 4.0 automation applications, JVL's EtherCAT module features two Ethernet connectors for line or ring topology daisy-chaining of multiple axes whilst LEDs offer a convenient status overview. Industry standard M12 connectors offer durable interfacing for harsh industrial environments.
Configuration is straightforward with JVL's MacTalk PC application software via a mini PLC with a graphical programming environment that also includes a wide range of motion control and machine I/O interaction functions. Furthermore, JVL EtherCAT integrated motors are plug and play compatible with Beckhoff PLC's and compatible with other EtherCAT-Master manufacturers such as Trio Motion who is also a distribution partner for Mclennan. For the JVL MAC motor, all registers are accessible via the EtherCAT interface enabling complete control of motor configuration, on board I/O and motion.
The EtherCAT CiA402 drive profile for JVL servo and stepper motors support the cyclic synchronised position (CSP) and cyclic synchronised velocity (CSV) modes as well as the older modes such as profile position, profile velocity and many homing methods. Synchronised cycle values for the integrated stepper can be set for 1, 2, 3 or 4 milliseconds whilst the MAC Integrated Servomotor offer 1 and 2 millisecond cycle periods. Both have a maximum jitter value of +/- 1 microsecond.
JVL also offers many other Industrial Ethernet protocols including EtherNet/IP, Profinet IO, EtherNet Powerlink, and Modbus. Other fieldbus protocols such as CANopen, DeviceNet, and Profibus are also available.
Mclennan has represented JVL in the UK for over five years and also enjoys distribution partnerships with other selected motion control component and systems manufacturers. With its own comprehensive design and build service available, Mclennan provides stepper and servo motor based automation solutions from single components to complete mechatronic assemblies. Contact Mclennan at sales@mclennan.co.uk or visit www.mclennan.co.uk.