Mclennan's AMP stepper motor range expands!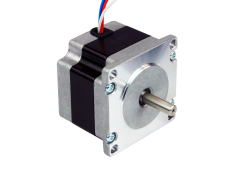 Ash Vale, Surrey, UK – August 2015: Mclennan continues to expand its range of stepper motors from USA distribution partner Applied Motion Products Inc. (AMP) with new smaller sized high-torque stepper motors in NEMA frame sizes 8, 11 and 14 as well as a range of 400 full step per rev motors.
The new miniature stepper motors will suit motion automation applications such as medical and laboratory equipment, camera controls, pumps and consumer electronics where installed space is limited but high torque and precision positioning is essential. The new 0.9 degree stepper motors, featuring 400 full-steps or 800 half-steps per rev with normal stepper drives, will provide smoother and quieter performance than the standard 1.8 degree motors in applications where microstepping drives are considered too elaborate, not available or where a basic half step drive is already specified.
The new compact NEMA motors are all 2-phase, 4-lead bipolar connected and range from size 8 - about 20 mm square - to size 14 which is around 35 mm square. Through the range the motor length is from around 26 to 53 mm with available holding torque from 1.5 to 18 Ncm. The 0.9 degree motors are offered in NEMA frame sizes 14, 17 and 23.
Mclennan supply a complete range of compatible low-cost stepper drives and motion controls from AMP to complement the new motors, from the 2035 full and half step drive to the STR2 advanced microstepping drive which includes simple dip-switch parameter set-up and many features found on much more expensive drives.
About Mclennan
Mclennan works closely with a small number of global motion control manufacturers and with its own in-house design and manufacturing capability the Hampshire based motion specialist offers complete integrated mechatronics assemblies with customised mechanics, gearheads and other power train components. Motor technologies include brushed and brushless servo motors, stepper motors, small AC motors and complementary gear unit drive technologies together with motion controls for competitively priced multi-axis motion and machine control for use throughout industrial and OEM automated machine applications – contact Mclennnan at sales@mclennan.co.uk
---
Ash Vale, Surrey, UK – Août 2015 : Mclennan continue d'étendre sa gamme de moteurs pas à pas en provenance de son partenaire Applied Motion Products Inc (AMP) avec de nouveaux moteurs plus petits dans les tailles NEMA 8, 11 et 14 possédant plus de couple et étend aussi sa gamme de moteurs 400 pas entiers.
Ces nouveaux moteurs pas à pas miniatures se montent sur de nombreux automatismes tels que des équipements médicaux et de laboratoires, des caméras de surveillance, des pompes et dans l'électronique grand public où l'espace est limitée mais où des couples élevés et la précision de positionnement sont essentiels
Tous ces nouveaux moteurs compacts NEMA sont bipolaires 2 phases à 4 fils et la gamme couvre les tailles 8 - environ 20 mm carré, à 14 - environ 35 mm carré. Les longueurs disponibles vont de 26 à 53 mm avec des couples de maintien entre 1,5 et 18 Ncm. Les moteurs de 0,9 degré sont disponibles dans la gamme NEMA 14, 17 et 23.
McLennan fournit de nombreuses d'électroniques et contrôleurs pas à pas à faible coût compatibles avec les moteurs, du simple driver pas entier et demi pas 2035 au driver avancé micropas STR2 qui intègre des réglages paramétrables par simple dip-switch et beaucoup d'autres fonctionnalités généralement proposées sur des drivers beaucoup plus onéreux.
A propos de Mclennan
Mclennan, qui travaille en étroite collaboration avec un faible nombre de fabricants mondiaux spécialisés en contrôle de mouvement, dispose de sa propre capacité de conception et de fabrication en interne proposant des ensembles mécatroniques complets et des mécaniques personnalisées, des réducteurs et d'autres composants de la chaîne cinématique. En matière de technologies de moteurs on retrouve les moteurs et servomoteurs avec et sans balais, les moteurs pas à pas, les petits moteurs à courant alternatif avec tous les réducteurs associés ainsi que les variateurs et contrôleurs de mouvement pour un prix compétitif en commande mono ou multi-axes de machines automatisées industrieles et OEM – Contactez Mclennan à sales@mclennan.co.uk