New miniature stepper-gearmotors available from Mclennan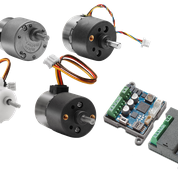 New miniature stepper-gearmotors and uncomplicated user-configured drive available from Mclennan
A new range of miniature stepper-gearmotors and a simple dipswitch-configured single-axis stepper drive are the latest new products from Mclennan's Italian distribution partner Micro Motors s.r.l. The four stepper gearmotors each offer a wide choice of spur- gear reduction ratios for maximum application flexibility and combine with the user programmable drive to provide a competitively priced and compelling solution for basic motion control tasks. The easy-to-use drive features a choice step and direction input control or various emulated 'brushless' speed modes and will particularly suit OEMs and end-users that need uncomplicated and affordable position or speed miniature power transmission control.
The innovative MM003AT/21-22 stepper motor drive requires an external 12 to 30 V DC or 12 to 24 V AC power supply and has dipswitch selectable current output of 160 mA or 330 mA. The corresponding motor torque and speed varies according to supply voltage and current settings. The PCB mounted drive features screw terminal strip connections for power and control signal inputs that include a 5 to 30V square wave signal for step/direction control as well as a clockwise/anticlockwise direction input - used in conjunction with a choice of 5V, 10V or 4…20 mA input levels for proportional speed control. An onboard trimmer is also available for acceleration/deceleration control in all modes. The dipswitch is used to select the various control modes as well as a select a fixed direction for the emulated 'brushless' speed modes. There is provision on the drive board for two sizes of motor connection. With dimensions of 33 x 33 x 14 mm and weight of 10 grams, the tiny drive is easily installed on the customers equipment with a single hole mounting.
Through the four stepper-gearmotor models, that cover a wide choice of gear reduction ratios, typical maximum holding-torque and speed specifications are up to 1500 mNm at 2 RPM and 220 mNm at 150 rpm. Variation in these specifications would be anticipated when used with the MM003AT/21-22 stepper drive and Mclennan are on hand to discuss specific applications and help with selection or other stepper drive solutions that may be more suitable for the customer's application. The four gearmotor models are extremely durable with the gear unit components well proven in Micro Motors' range of DC brushed and brushless gearmotors. All have metal housings and provision for simple face mounting and torque-matched output shafts. They are also compact - the maximum overall length of the 40 mm diameter gear unit is just 52 mm. The gearmotors and drive specifications are comprehensively covered in a 12-page brochure available for download at https://www.mclennan.co.uk/product/sm-geared-steppers-micro-motors-geared-stepper-range
Mclennan works closely with Micro Motors and other selected global motion control component manufacturers, and with its own in-house design and manufacturing capability, offers complete integrated mechatronics assemblies with, linear and rotary positioning tables, customised mechanics, gearheads and other power train components. Motor technologies include brushed and brushless servo motors, stepper motors, small AC motors and complementary gear unit drive technologies together with motion controls and software for competitively priced multi-axis motion sub-systems for use throughout industrial and OEM automated machine control applications.