stepSERVO™ range expands further: Applied Motion Products adds NEMA 34 and dual port Ethernet to integrated stepper motor package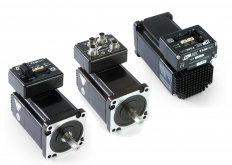 Ash Vale, Surrey, UK – October 2016: stepSERVO™ integrated motors from Applied Motion Products Inc. (AMP) are now available in a new NEMA 34 frame-size option that offers closed-loop servo control with peak-torque performance of over 8 Nm – up to 50% more torque than equivalent stepper motors running open loop. Available from Mclennan, AMP's European distribution partner, the innovative microstepping motor based system comprises a digital closed-loop servo drive, 20,000 count/rev feedback encoder and several options for motion control & communications in a single integrated package. The high performance, energy efficient range is now available in NEMA frame motor sizes from 11 through 34 and the new larger size stepSERVO includes dual-port Ethernet that paves the way for a full EtherCAT version offering tightly synchronised decentralised multi-axis motion control which will follow later in 2016. Furthermore IP65 sealed NEMA 34 frame versions are available for use in extreme environments.
Three types of stepSERVO's form the range: The SSM series is available in NEMA 23 frame sizes, in 3 motor length options, and includes Ethernet/IP industrial networking. The TSM series covers NEMA 11, 17, 23 and 34 sizes in various stack lengths and control options that include CANopen, EtherNet/IP, Modbus RTU or TCP, as well as step + direction or analogue +/- 10 V control. The TSM's 'Q' controller allows standalone operation using stored programs. The TXM versions, available in NEMA 24 and 34 frame sizes, offer all the features of the TSM but are supplied with IP65 rated front shaft seals and M12 connectors for use in wet and dusty environments. Across all product variants, the stepSERVO operates from 24 to 70 VDC except for the NEMA size 11 motor which requires 11 to 30 VDC power.
AMP's stepSERVO technology is fully explained in a white paper which is available for download from Mclennan's website. By developing this closed-loop stepper motor technology, AMP offers a compelling proposition for high performance motion control applications in packaging automation, automated test, parts handling machinery, positioning stages, life science equipment and more with a motion control solution that cost-effectively improves performance over open loop steppers. With accuracy of up to one encoder count (0.18 degrees) and much improved peak torque the stepSERVO can significantly enhance parts precision and increase production throughput. Quiet and efficient operation and reduced running costs is another characteristic feature of the range - the motors run cooler as they only consume current when required, and can hold torque at standstill. Furthermore, the integrated motor allows reduced installation cost and time for faster machine construction and fully complies with the decentralised machine control concept of Industry 4.0.