Vacuum and extreme-environment compatible positioning stages now available from Mclennan
Vacuum and extreme-environment compatible positioning stages now available from Mclennan Through its exclusive distribution partnership with the extreme-environment motion control specialist Phytron GmbH, Mclennan supplies and supports the German manufacturer's comprehensive range of application dedicated stepper motors and drives for use in ultra-high vacuum, radiation hardened and cryogenic temperature positioning systems. Now available from Mclennan is the ability to specify and deliver Phytron's well proven motors as part of fully compatible linear translation and rotation stages from Vacuum Fab s.r.l. The Italian designer and manufacturer, and fellow Phytron distribution partner, is a true specialist for challenging extreme-environment positioning mechanics for research and industry - with a range that extends across several product designs, each aimed at the precision and dynamic performance considerations for the task in hand.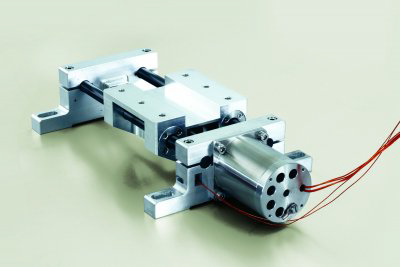 Image: Vacuum Fab Italia's VLSC series motorised linear stages with Phytron stepper motor
The comprehensive vacuum compatible Phytron stepper motor driven range, which can be adapted for radiation or cryo' environments etc., includes the compact VLSC series linear stages: a closed stainless steel framed design with linear caged ball-bearings for travel ranges from 12.5 and 25 mm delivering nominal sub- micron precision through a stainless steel leadscrew and preloaded PEEK nut arrangement.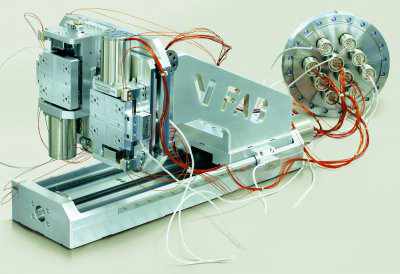 Image: A multi-axis example of Vacuum Fab Italia's VLSP series motorised linear stages prepared for vacuum chamber installation
Also in stainless steel, the VLSB is an open framed, low-profile design aimed at entry level applications. Its recirculating ball bearing carrier supports loads to 150 N and a helps deliver submicron precision and repeatability over a travel range up to 250 mm. The VLSP series adds a second carriage option to a closed frame design and a choice of travel in various length to 250 mm. Also with an optional Renishaw linear scale, the stage's resolution can be as low as 0.05 microns with the Phytron stepper motor in microstepping mode. For vacuum compatible rotary stages, the VRSP series includes a precision worm/wheel drive, and with a choice of open loop or integral absolute encoder feedback, resolution can be as high as 0.09 μrad. Vacuum Fab can delivery these stages as X, Y, Z and rotary stage assembles, and also build vacuum compatible mirror mounts, filter wheels and other accessories for beam line applications etc.
For the most challenging UHV, radiation and cryogenic temperature environments, Vacuum Fab's RodRail eXtreme motorised stainless steel linear stages combine narrow profile, light weight with modular flexibility for multi-axis configurations. Available in two sizes as the RRX-Micro and RRXNano series with profile widths of 46 and 28 mm respectively, the open cage design provides high stiffness through four parallel recirculating rod-rail bearing supports. A stainless steel/PEEK leadscrew system provides repeatability to less than 1 micron in vacuum and 10 microns in cryogenic temperatures. Standard travel lengths available span 25 mm to 450 mm in several length options. UHVC vacuum levels up to 10-9 torr at temperatures to more than 77⁰ K can be specified.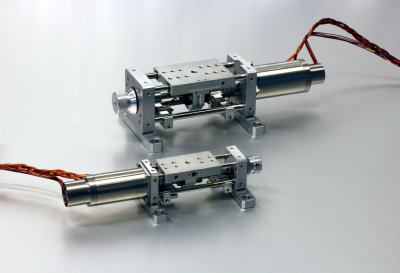 Image: Vacuum Fab Italia's RodRail eXtreme series motorised linear stages
In its role as a specialised motion component supplier and system integrator, and with the capability for in-house design and build, Mclennan has several years' experience specifying and integrating Phytron's standard and extreme grade motion components for industrial, vacuum, space and cryogenic applications across manufacture & test, process industries, satellite engineering, scientific research and more. Phytron's comprehensive standard range of motors and precision actuators, and its ability to custom engineer its motors for extreme applications, extends from industrial grade IP68 sealed stepper motors to extreme environment motors for use in high energy physics, deep space, nuclear, sub-sea and almost all extreme environment areas where www.mclennan.co.uk