Panel Mount Stepper Drives
Vacuum & Extreme Environment Stepper Products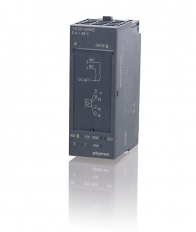 1-STEP-DRIVE: Stepper motor module for the SIMATIC ET 200 - S
Stepper motor module for the SIMATIC ET 200-S
Controlling and driving stepper motors within a modular PLC system: The 1-STEP-DRIVE technology guarantees a high-precision current adjustment and enables fine positioning up to 1/512 step with an absolute and non-cumulative error of about 0.0015° (Approx. 102,400 positions per revolution (0.0035°/step) with a 200 step motor).
Technical Details
Stepper motor controller with integrated power stage for
SIMATIC ET 200®S
The 1-STEP-DRIVE-5A-48V module successfully completed the system compliance test performed by SIEMENS.

Suitable for bipolar control of 2 phase stepper motors with 4-,(6-) or 8 lead wiring
5 APEAK Phase current with 20 mA adjustable increments
Power supply from 24 to 48 VDC
Up to 1/512 microstep
Physical resolution: approx. 102,400 positions per revolution (0.0035°/step). An encoder with a counter should be considered for micro positioning.
Maximum step frequency: 510,000 steps/sec
Chopper frequency selectable: 18, 20, 22 or 25 kHz
2 digital inputs for limit and reference switches
Diagnostic LEDs (over current, over temperature, driving instruction or Motor is running, etc.)
Controller modes: Relative and absolute positioning, revolution mode, move to a reference point,...
Online controller parameterizing and diagnostic
Programming via STEP

®

7, TIA Portal

®

(V12 to V14)
Operating temperature: 0 to +60 °C
short-circuit-proof, overload-protected
Approval: CE
Included in delivery: CD-ROM incl.

configuration file (HSP), application example

and manual (pdf)
Important: the configuration files are not down-compatible. SIMATIC
®
, ET 200
®
S, STEP
®
7 and TIA Portal
®
are trade marks of the SIEMENS AG.