Brushless DC Motors & Matching Drives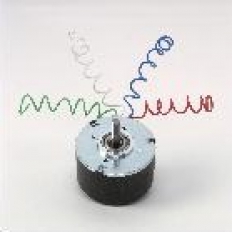 BLDC48EB-8 Watt (4 wire)
Brushless Motor
The BLDC48EB-8 Watt (4 wire) is a variable speed brushless DC motor with integrated drive electronics providing up to 12 watts continuous output power.
The units provides a compact solution to a variety of light industrial applications such as conveyor drives, tensioning mechanisms, paper feed and pump drives. Scientific applications include stirring equipment, peristaltic pumps, mixing machines, as well as any variable speed application that requires long maintenance free life and operating speeds from 100 to 3000 rpm.
The motor's design incorporates an external rotor and magnet system which provides particularly smooth running, high grade bearings and drive electronics, all of which are housed in an enclosure suitable for use up to IP55 operating conditions. The inclusion of the drive electronics within the motor greatly simplifies the use of the motor as well as reducing overall system cost.
| | |
| --- | --- |
| Output Power: | 12 Watt |
| Nominal Voltage: | 12 & 24 Volt |
| Nominal Torque up to: | 40 mNm |
| Nominal Speed up to: | 4500 rpm |
| Diameter: | 54.0 mm |
| Length: | 38.0 mm |