Robust Housed Incremental & Absolute Encoders
Miniature Housed Incremental Encoders
Miniature Housed Absolute Encoders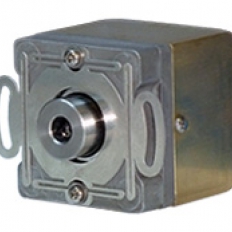 CP-500 Series Housed Encoder
Housed Encoder
Allied Motion's CP-500 series hollow shaft encoder is a small, rugged optical encoder with a package form factor similar to that of a 39 mm stepper motor.
Up to 2,048 cycles per revolution are available for the incremental models and up to 10 bits for the absolute units.
A single light emitting diode is the CP-500's light source, and it is servo controlled to maintain constant light output over time and the unit's temperature range. The CP-500's light sensor is a monolithic silicon array.
The CP-500 series includes commutating versions to enable the commutation of brushless DC motors in addition to providing encoded position data.
Model
CP-500
CP-550
CP-560
Type
Incremental, sine/cosine
Incremental, digital
Incremental, Linedriver 5V to 30V
Format
A quad B, index
A quad B, index, inverses
A quad B, index, inverses
Resolution
(counts/rev)
100, 128, 200, 256, 400,
512, 1024, 2048
100, 128, 200, 256, 300,
360, 400, 500, 512, 600,
720, 800, 1000, 1024, 2048
100, 200, 256, 360, 500,
600, 1000, 1024, 2048,
Frequency Response
20 kHz
100 kHz
Accuracy
± 12 acseconds typ.
Repeatability
1 arc sec
+/- 1 count
Output
Voltage (peak-to-peak)
TTL, Line Driver, open 4.7k pull up resistors
Line Driver
Power Supply (VDC)
± 18 VDC max
+ 5Vdc (50 mA max)
±4.75 to 30 VDC (50 mA max)
Connector



10-pin, 3-M 3473-6610
Signal
Pin
Signal Line Driver
Signal TTL
Pin
Signal
Pin
Ground
1
+ 5 VDC
Channel A
1
+ VDC
1
Channel A
2
+ 5 VDC
+ Vcc
2
Channel A
2
N/C
3
Channel A Inv
Ground
3
Channel A Inv
3
- 12 VDC
4
Channel A
Ground
4
Channel B
4
N/C
5
Channel B Inv
Ground
5
Channel B Inv
5
Channel B
6
Channel B
Ground
6
Index Channel Ground
6
N/C
7
Index Channel
+ Vcc
7
Index Channel Inv
7
+ 12 VDC
8
Ground
Channel B
8
Ground
8
V Ref (servo ground)
9
Index Channel Inv
N/C
9
N/C
9
Index
10
Ground
Index Channel
10
N/C
10
Model
CP-550-08GC
CP-550-08NB
CP-550-08AN
CP-550-10GC
Type
Grey Code, 8-bit
Incremental, digital
Incremental, sine/cosine
Incremental, sine/cosine
Format
Parallel Grey Code
A quad B, index, inverses
A quad B, index
A quad B, index
Resolution
(counts/rev)
100, 128, 200, 256, 400,
512, 1024, 2048
100, 128, 200, 256, 300,
360, 400, 500, 512, 600,
720, 800, 1000, 1024, 2048
100, 128, 200, 256, 400,
512, 1024, 2048
100, 128, 200, 256, 400,
512, 1024, 2048
Frequency Response
100 kHz
100 kHz
20 kHz
20 kHz
Output
TTL or LM339
(Optional Pull Up Resistors)
TTL or LM339
(Optional Pull Up Resistors)
0-10V Standard
(4-20mA Optional)
TTL or LM339
(Optional Pull Up Resistors)
Power Supply (VDC)
±5, 12, 24 VDC
±5, 12, 24 VDC
12.6VDC to 16.6VDC
@ 100mA max
±5, 12, 24 VDC
Connector



10-pin, 3M 3473-6610
14-pin, 3M 3473-6614
Signal
Pin
Signal
Pin
Signal
Pin
Signal
Pin
G4
1
B4
1
N/C
1
G1
1
G6
2
B6
2
+ VDC
2
G8
2
G0 (lsb)
3
B0 (lsb)
3
N/C
3
G6
3
G3
4
B3
4
N/C
4
G7
4
Ground
5
Ground
5
Direction Control
5
Ground
5
G2
6
B2
6
Power Ground
6
G5
6
+5 VDC
7
+5 VDC
7
Current Output
7
+5 VDC
7
G5
8
B5
8
N/C
8
G0 (lsb)
8
G7 (msb)
9
B7 (msb)
9
Voltage Output
9
G9 (msb)
9
G1
10
B1
10
Return (I or V)
10
G3
10
G4
11
G2
12
N/C
13
G9 Inverted
14