Robust Housed Incremental & Absolute Encoders
Miniature Housed Incremental Encoders
Miniature Housed Absolute Encoders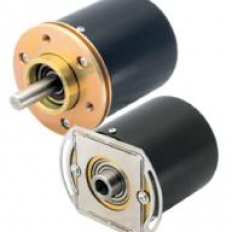 CP-800/900 Series Housed Encoders
Housed Encoders
Allied Motion's CP800/900 series are size-25 (2.5 in. (63.5mm)) rotary optical encoders, available as solid or hollow shaft models with incremental, sine/cosine, and absolute encoding formats. These rugged units have their own bearing system and are fully enclosed in a metal housing sealed up to IP65.
CP-800 models have a solid shaft and are offered with either a square or servo flange. CP-900 models have a hollow shaft design with a hub-shaft accepting up to 0.5" (12.7mm) shafts. A face mounted spring absorbs installation misalignment.
CP-800/900 encoders offer exceptional resolution of up to 1 million counts per rev. or 17-bit absolute enabling their use in high precision positioning applications. Custom designs are available to suit special requirements.
Incremental Encoders
Model
CP-800/900
CP-850/950
CP-870/970
CP-850/950 HHC
Type
Incremental, sine/cosine
Incremental, digital
Incremental, digital,
line driver
Incremental, digital,
high count
Format
A quad B, index
A quad B, index,
inverses
A quad B, index,
inverses
A quad B, index,
inverses
Resolution
(cycles/rev)

1 cycle/rev
= 4 cts/rev
1000, 1024, 2048, 3600, 4096
360, 512, 720, 1000, 1024, 1440, 1800, 2000, 2048, 2880, 3000, 3600, 4000, 4096, 5000, 5120, 6000, 7200, 8000, 8192, 9000, 10000
360, 512, 720, 1000, 1024, 1440, 1800, 2000, 2048, 2880, 3000, 3600, 4000, 4096, 5000, 5120, 6000, 7200, 8000, 8192, 9000, 10000
11.25k, 12k, 12.5k, 15k, 16384, 20k, 22.5k, , 24k, 25k, 26k, 28.8k, 30k, 32k, 32.5k, 32768, 36k, , 40k, 45k, 50k, 52k, 57.6k, 60k, 62.5k, 64k, 65k, 65536, 72k, 75k, 80k, 90k, 92160, 100k, 120k, 150k, 180k, 200k, 225k, 250k, 262144, 325k, 360k, 400k, 512k, 524288, 625k, 720k, 900k, 1000k, 1024k, 1048576, 1250k
Frequency Response
40 kHz
250 kHz
250 kHz
2MHz
Accuracy
±12 arcsec (typ.)
± 1 count
Repeatability
1 arc sec
± 1 count
Output
Op amp (TIL084)


TTL/74LS04
Line driver
Line driver*
Power Supply (VDC)
+5, +12 (50 mA max. ea.)
+5 (100 mA max.)
+8 to +30 (150 mA max.)
+5 (250 mA max.)
* Recirculating quadrature counter recommended as receiving device (e.g., HP HCTL-2000, -2016, -2020, or LSI 7166)
Incremental Encoder Connections
(Connector: MS3102R-18-1P)
| | | | | | | | | | |
| --- | --- | --- | --- | --- | --- | --- | --- | --- | --- |
| Connection | A | A Inv. | B | B Inv. | Index | Index Inv. | +5 VDC | Common | Shield |
| Connector Pin | A | G | B | H | C | I | E | F | J |
Absolute Encoders
Model
CP-850/950-12GC
CP-850/950-14GC
CP-850/950-17SGC
Type
Absolute,
12-bit
Absolute,
14-bit
Absolute,
17-bit
Format
Parallel Gray Code
Parallel Gray Code
SSI Gray Code
Frequency Response
100 kHz min. word rate
5 MHz clock
Output
TTL compatible
TTL or RS485
Power Supply
+5 VDC ±10%, (100mA max.)
+5 ±.5 VDC
Model
CP-850/950-12NB
CP-850/950-12ANx
Type
Absolute,
12-bit
Absolute,
analog
Format
Parallel Natural Binary
12 bits (4096 steps)
Frequency Response
100 kHz min. word rate
50µs latency
Output
TTL compatible
0 - 10 V (std.),
4-20 mA (opt.)
Power Supply
+5 VDC ±10%, (100mA max.)
+12.6 TO +16.6,
(100mA max.)
Absolute Encoder Connections
(Connector: KPT00A-14-19P, except MS3102R-16S-1P for model CP-850/950-12ANx)
CP-850/950-12GC
CP-850/950-14GC
CP-850/950-12NB
CP-850/950-12GC/3600
CP-850/950-12BD
CP-850/950-12ANx
Signal
Pin
Signal
Pin
Signal
Pin
Signal
Pin
Signal
Pin
Signal
Pin
G0
A
G0
P
B0
A
G0
A
B1
A
Iout
A
G1
B
G1
S
B1
B
G1
B
B2
B
Iout (rtn.)
B
G2
C
G2
A
B2
C
G2
C
B4
C
Vout
C
G3
D
G3
B
B3
D
G3
D
B8
D
Vout (rtn.)
D
G4
E
G4
C
B4
E
G4
E
B10
E
Direction
E
G5
F
G5
D
B5
F
G5
F
B20
F
+15 VDC
F
G6
G
G6
E
B6
G
G6
G
B40
G
Common
G
G7
H
G7
F
B7
H
G7
H
B80
H
Ground
H
G8
J
G8
G
B8
J
G8
J
B100
J
G9
K
G9
H
B9
K
G9
K
B200
K
G10
M
G10
J
B10
M
G10
M
B400
M
G11
N
G11
K
B11
N
G11
N
B800
N
+5 VDC
V
G12
M
Direction
L
+5 VDC
V
B1000
P
Common
T
G13
N
+5 VDC
V
Common
T
B2000
R
Ground
S
+5 VDC
V
Common
T
Ground
S
B4000
U
Common
T
Ground
S
Direction
L
Ground
shield
+5 VDC
V
Common
T
Ground
S
Mechanical
Model
Units
CP-800 Series
CP-900 Series
Shaft Diameter
in (mm)
0.3745/0.3748 (9.512/9.520)
0.5 (12.7) max.
Shaft Play
in (mm)
0.05 (1.27) axial; 0.005 (0.127) radial
Shaft Loading
lb (N)
40 (178) axial; 35 (156) radial
Shaft Runout, T.I.R.
in (mm)
0.0005 (0.0127)
Shaft Material
416 stainless steel
Shaft Rotation
Continuous, reversible
Bearing Type
ABEC-7
Starting Torque
oz-in (mNm)
1.5 (10.6) max. at 20 ºC
Inertia
oz-in-s² (kgm²)
4.1E-4 (2.9E-6)
Slew Speed
RPS (RPM)
160 (9600)
Shock
g
50 at 11 ms
Vibration
Hz
5 - 2000 Hz at 20g
Operating Temperature
ºC
0 to +70
Humidity
%
98 (without condensation)
Protection Rating
IP54 (IP65 with shaft seal)
Housing Material
Aluminum (flange and cover)
Weight
lb (kg)
13 (0.369)