Integrated Stepper Motors
Integrated Stepper Motor
Integrated stepSERVO Motor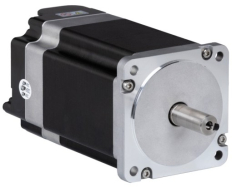 CSM34X5L-A - Integrated StepSERVO Conveyor Smart Motor
By combining the drive and motor, the CSM34 is a space-saving, fully integrated solution that eliminates the need for separate cabinets, gearheads, and extra wiring. With a direct panel control and status display, it's easy to control and monitor the system without external computers or communication wiring. Additionally, the CSM34 delivers high torque at low speeds and has a service life of over 20,000 hours, making it a reliable alternative to traditional AC induction or brushless motors and gearheads.
StepSERVO Closed-Loop Stepper Technology
StepSERVO technology merges the high torque potential of a step motor with the precise dynamic control of a servo system, yielding a highly flexible motion control solution. Operating quietly and efficiently, the system needs minimal current to maintain commanded velocity and position. Boost torque, exceeding the rated holding torque, amplifies the limits of acceleration, shortening cycle times. StepSERVO integrated motors offer an alternative in systems demanding high precision where a conventional stepper motor is insufficient.
IO Control
The CSM34 integrated motor is equipped with 4 digital inputs and 2 digital outputs. These inputs accept signals of 5-24 VDC and can be used for various functions such as direct motor control, motor rotation direction, clear alarm, motor disable, and secondary speed. The digital outputs, on the other hand, are used for alarm output and dynamics in position signal.
7 Segment Status Display with Control Switch
The CSM34 features a 7-segment status display and control switch, providing real-time updates on motor status and speed, as well as displaying alarm statuses. Additionally, the motor operation can be directly configured by the operator using the four push buttons, allowing for adjustments to motor speed, acceleration, and testing moves.
Product Features: Integrated Motor and Drive / StepSERVO close loop position/speed control / Gearless motion solution / Up to 6Nm torque output / Direct plug-in connection / "On the fly" speed change / Speed settings on the motor / No external control panel required / 5 digit, 7 segment motor status display / Direction and motion control inputs / 2 configurable speed inputs / Push button configuration and jog motion / Quick installation
The CSM34 motors are compatible with the following products/accessories:
RC880 Regeneration Clamp for DC-input gearheads
80PExxx-SSAH1 gearheads
PS480D48 and PS480D72 power supplies
Supply Voltage:
24-70 VDC
Current Draw from Power Supply:
7.1 A max
Control Modes:
Velocity Control
Encoder Resolution:
2,000 lines (8,000 counts quadrature)
Step Resolution:
Microstepping
Setup Method:
DIP switches
Digital Inputs:
4 Optical Isolated, differential input, 5-24VDC
Digital Outputs:
2 optical isolated, 30VDC/100mA max
Circuit Protection:
Short circuit, Over-voltage, Under-voltage, Over-temp
Status LEDs:
Digital Display
Holding Torque:
949 oz-in
Max. Boost Torque:
1048 oz-in
Rotor Inertia:
0.0547 oz-in-sec2
Operating Temperature Range:
0-40 °C
Ambient Temperature Range: 0
0-40 °C
Ambient Humidity:
Below 90%
Insulation Class:
B (130 C)