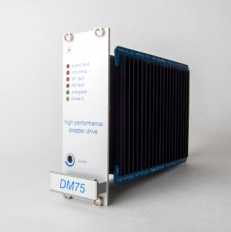 DM75/9 - DM Series Stepper Drive
8.0 amp RMS microstepping eurocard, ideal for integration into 19″ Racks
The DM series of Eurocard stepper drives are available from Mclennan:
Advanced Microstep Performance: For demanding applications requiring smooth precision motion, the DM range of microstepping drives are the solution. Designed around surface mount ASIC technology, DM drives increase the number of 'steps' a motor makes per revolution from 200 to 51200. With both binary and decimal resolutions available there's a setting to suit all applications.
Flexible Current Setting: Winding current can be easily set to match the motor characteristics to the load whilst the motor is running either by a rotary 'hex switch' on the front panel or a resistor connected to the drive backplane. In addition the drive has a boost input which increases current output by 30%, useful for rapid acceleration but can be used continuously.
Comprehensive Dynamic Protection: CDP monitors the drives dynamic environment, and reacts within 5μS to protect itself against all motor winding faults, including a short to winding, short to ground and low inductance winding. In addition there is protection against irregular motor supply voltage, low logic supply and over temperature conditions.
Compact Design: Advanced design using MOSFET technology and a compact high efficiency heatsink enables continuous operation from the Euromodule 3Ux160mm format drive, with natural free air convection cooling normally being sufficient. A standard module width of 9HP (1.8") enables as many as 8 drives plus power supply to be housed in one 19" wide rack, 14 with 6HP DM28/DM55.
Reliability: Conservatively rated components are combined with thorough production testing of all units under simulated fault conditions, and for correct thermal performance. This ensures that each DM drive provides a long life of trouble free operation, even during adverse operating conditions.