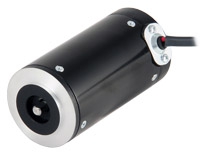 Endurance 20 Series Permanent Magnet DC Motors
Permanent Magnet DC Motors
Allied Motion's Endurance 20 2-inch (50.8 mm) diameter 4-pole PMDC motors provide significantly higher starting torque output than equivalent‑size 2-pole motors. These motors are a cost-effective solution for a wide variety of industrial and commercial applications like pumps and electric actuators.
With rated voltages from 12 to 48 VDC, and continuous power output up to 1/8 HP, Endurance 20 models are especially suitable for battery-fed applications. They offer excellent performance, long service life, and high reliability. Custom design versions are available to exactly match customer needs.
These motors can be combined with our 28.3:1 planetary gearbox for smooth low speed, high torque operation. They are also capable of accepting a variety of encoders or brake options.
The ability to add sealing options makes this motor robust enough for the most demanding operating environments.
Mclennan holds stock of various configurations in the UK for immediate delivery. For technical assistance and details of value added assemblies, including gearboxes and wiring / connector options please contact our sales and applications support team.
We hold many models in stock for immediate delivery and any motor from Allied Motion can be obtained on short lead times. For more information contact our Sales and Applications Engineering team.

MD-ENM-50-3x

MD-ENM-50-6x

MD-ENM-50-8x

Winding ("x" in model number)

Q

R

Q

R

Q

R

DC Nominal Input Voltage

12

24

12

24

12

24

Cont. Torque [Nm (oz-in)]*

.113 (16)

.134 (19)

.155 (22)

.134 (19)

.162 (23)

.225 (32)

Cont. Current [ADC]*

8.8

5.3

8.1

4.6

.4

5.2

Peak Current [ADC]

49

32

40

18

30

22

Rated Speed [RPM]*

5750

6200

3750

3800

3267

3387

No-load Speed [RPM]

6850

7125

4500

4800

4075

4275

Cont. Power [W (HP)]*

68 (.09)

87 (.12)

61 (.08)

66 (.09)

56 (.07)

80 (.11)

Torque Constant, Kt [Nm/A (oz-in/A)]

.016 (2.30)

.031 (4.44)

.025 (3.57)

.047 (6.66)

.027 (3.77)

.054 (7.69)

Back EMF Constant, Ke [V/kRPM]

1.68

3.25

2.62

4.92

2.83

5.65

Motor Constant, Km
[Nm/√W (oz-in/√W)]*

0.032 (4.53)

0.036 (5.10)

0.046 (6.51)

0.041 (5.81)

0.043 (6.09)

0.052 (7.36)

Terminal Resistance [Ohms]

0.24

0.75

0.30

1.33

0.40

1.09

Terminal Inductance [uH]

94

332

119

439

148

550

Motor Rotor Inertia
[E-5 kg-m² (oz-in-sec²)]

2.91 (.00411)

4.29 (.00608)

5.46 (.00829)

Weight [kg (lb)]

.59 (1.3)

.73 (1.6)

.86 (1.9)