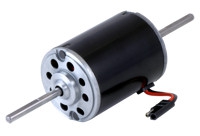 Endurance 30 PJ Series Permanent Magnet DC Motors
Permanent Magnet DC Motors
Allied Motion's Endurance 30 PJ series of 3-inch (76 mm) diameter PMDC motors are a cost-effective solution for a wide range of commercial applications like mobile HVAC systems, pumps, and electric actuators.
With rated voltages from 12 to 48 VDC, and continuous power output up to 1/3 HP, the Endurance 30 PJ models are especially suitable for battery-powered applications. They offer excellent performance, long service life, and high reliability. Custom design variations are available to exactly match customer needs.
Mclennan holds stock of various configurations in the UK for immediate delivery. For technical assistance and details of value added assemblies, including gearboxes and wiring / connector options please contact our sales and applications support team.
We hold many models in stock for immediate delivery and any motor from Allied Motion can be obtained on short lead times. For more information contact our Sales and Applications Engineering team.
Model

Weight
lb (kg)

Cont. Torque
oz-in (Nm)

Cont. Speed
RPM

No Load Speed
RPM

Pk Amp

Cont. Amp

NL Amp

Cont. Power
HP (W)

PJ20000Q

1.0 (0.46)

20 (0.14)

3000

3700

8

5

2

0.06 (44)

PJ22000Q

1.6 (0.73)

30 (0.21)

3600

4000

14

8

3

0.11 (80)

PJ23000Q

2.1 (0.96)

40 (0.28)

3400

4200

18

12

4

0.135 (101)

PJ24000Q

2.7 (1.22)

50 (0.35)

2700

3400

20

14

4

0.134 (100)

PJ26000Q

3.2 (1.45)

60 (0.42)

3100

3800

20

15

4

0.184 (137)

PJ27000Q

3.8 (1.73)

70 (0.50)

3300

4100

24

20

4

0.23 (171)

PJ28000Q

4.3 (1.95)

80 (0.56)

3000

3800

26

22

4

0.24 (178)

PJ2P000Q

5.3 (2.4)

90 (0.64)

3000

3700

28

24

4

0.27 (200)

PJ2R000Q

6.4 (2.9)

100 (0.71)

2500

3000

28

24

4

0.25 (185)

PJ2T000Q

6.9 (3.12)

140 (0.99)

1750

2150

30

25

4

0.24 (181)