Panel Mount Stepper Drives
Vacuum & Extreme Environment Stepper Products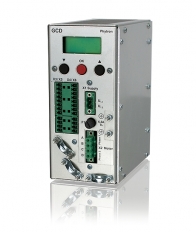 GCD 93-70: Stepper Motor Drives with Plain Text Display
Stepper Motor Drives with Plain Text Display
GCD MINI is an 'intelligent' stepper motor power stage with indexer for two-phase stepper motors up to 9 APEAK. Absolute and relative motion commands can be executed from a PLC or online on the PC.
PLC Mode: The GCD power stage receives motion commands from a PLC via the digital inputs and outputs.
Online Mode:The GCD receives motion commands from a PC via RS 485 or RS 232 interface.
Indexer: The embedded indexer allows a processor controlled selection of the best step resolution.The step resolution is automatically adapted to the frequency: 1/8 1/4 1/2 full step 1/2 1/4 1/8. Ministep guarantees high resonance suppression during a slow run. Full step enables the complete motor power at high frequencies.
A two-line plain text display and three menu buttons are sufficient for operating the GCD. The parameters run, stop and boost current can be programmed and changed in the SETUP menu at any time. The TEST menu allows to drive the motor for test with the programmed parameters, to set the outputs and to display the input states.
Active parameters are displayed during motor running: phase current, voltage or power stage temperature (optional). The plain text display changes in case of an error: short circuit, under voltage or over temperature.
Technical Details
Compact stepper motor drive with plain text display
Axis controller, bipolar power stage and supply unit
Supply voltage 24 to 57 V

AC

or 24 to 80 V

DC

Phase currents 0.14 A

PEAK

to 9 A

PEAK

Dynamically optimised step resolution
Full step to 1/8 step
Digital I/O for interfacing e. g. to a PLC
8 inputs / 4 outputs
2 limit switch inputs
Interfaces: RS 232, RS 485
Control by PC or PLC
Wall or DIN rail mounting