Panel Mount Stepper Drives
Housed Intelligent Stepper Drives
Vacuum & Extreme Environment Stepper Products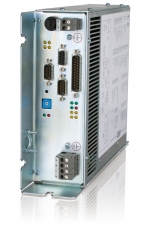 GSP: Stepper Motor Drive with Power Supply Unit
Stepper Motor Drive with Power Supply Unit
GSP Stepper Motor Power Pack:
The GSP power pack is an 'intelligent' drive for two-phase stepper motors. The GSP vario power pack is designed for stepper motors up to 9 A (70 V motor voltage). The GSP maxi PEAK power pack is used for larger stepper motors up to 17 A (140 V motor voltage). PEAK Motor currents can be set individually in 16 stages. The GSP is controlled by a micro controller which receives the control commands from a superior controller, e. g. from a PC or a PLC. So it is possible to operate in two operation modes: online or PLC mode. The drive is connected to the superior controller via RS 232 or RS 485 (4-wire) serial interface.
Axis Controller:
The GSP power packs operate with a dynamic ministep / full step changeover. The step resolution is automatically adapted to the frequency: 1/8 1/4 1/2 full step 1/2 1/4 1/8. Ministep guarantees high resonance suppression during a slow run. Full step enables the complete motor power at high frequencies. The GSP use phytron's welltried technology, now with enhanced field synchronised current chopped regulation based on the patented SYNCHROCHOP principle developed by phytron.
Technical Details
High efficiency power stage and axis controller for 2-phase stepper
motors
Power supply unit for direct connection to 230 VAC or 115 VAC
GSP 92-70: up to 9 APEAK / 70 V
GSP 172-140: up to 17 APEAK / 140 V
Processor controlled step resolution selection
Dynamically optimised switching from 1/8 step to full step
Digital I/O for direct connection e. g. to a PLC
Optional: CAN bus, SFI step failure indication
Design acc. to EMC standards and Low Voltage Directions
Control by PC or PLC