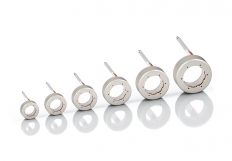 HPD Series - High Power Density Brushless Motors
Allied Motion's KinetiMax™ HPD series are outer-rotor design brushless motors featuring frameless part sets.
Available in six frame sizes with three stack-lengths per size and three windings per stack length, allowing you to select an optimum configuration with an exact performance fit for your application.
The HPD outer-rotor brushless motor series is designed for high-torque, low-cogging applications like robotics, AGVs, and handheld power tools.
KinetiMax HPD series motor performance is summarized below.
| Series | Frame Size (mm) | Length (mm) | Motor Voltage (Vdc) | Rated Torque (Nm) | Rated Speed (rpm) | Rated Current (A) | Output Power (W) | Product Information |
| --- | --- | --- | --- | --- | --- | --- | --- | --- |
| | 62 | 21 | 17 | 0.24 | 4320 | 7 | 108 | |
| | 62 | 27 | 14 | 0.42 | 2948 | 11 | 131 | |
| | 62 | 33 | 18 | 0.55 | 2617 | 9.3 | 150 | |
| | 72 | 23 | 21 | 0.43 | 3712 | 9 | 166 | |
| | 72 | 31 | 16 | 0.76 | 2545 | 14 | 202 | |
| | 72 | 38 | 22 | 0.98 | 2264 | 12 | 232 | |
| | 83 | 28 | 14 | 0.7 | 3327 | 19.4 | 245 | |
| | 83 | 36 | 19 | 1.25 | 2294 | 17.1 | 299 | |
| | 83 | 44 | 15 | 1.6 | 2046 | 25.5 | 345 | |
| | 95 | 32 | 17 | 1.3 | 3038 | 24 | 360 | |
| | 95 | 40 | 14 | 2.0 | 2109 | 36 | 442 | |
| | 95 | 49 | 18 | 2.58 | 1886 | 34 | 510 | |
| | 109 | 38 | 12 | 1.83 | 2792 | 51 | 534 | |
| | 109 | 48 | 16 | 3.24 | 1954 | 45 | 662 | |
| | 109 | 59 | 22 | 4.17 | 1754 | 38 | 767 | |
| | 125 | 42 | 15 | 2.95 | 2598 | 62 | 803 | |
| | 125 | 54 | 20 | 5.2 | 1838 | 55 | 1006 | |
| | 125 | 66 | 27 | 6.7 | 1658 | 47 | 1171 | |