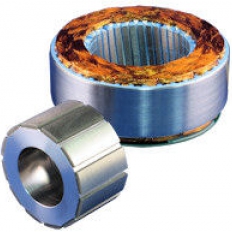 HT Series Frameless Torque Motors
Frameless Torque Motors
Allied Motion's HT (High Torque) series of frameless brushless torque motors are available in nine standard diameters from 19.3 mm (0.760 in) to 127 mm (5 in) with up to six stack lengths each. Continuous torque ratings range from 0.021 Nm (2.9 oz-in) to 4.4 Nm (693 oz-in). Winding voltage is 24 VDC or 100 VDC, depending upon model. Hall effect commutation sensors are integral to the motor, and require no setup on the part of the user.
The standard HT series motors are especially well suited for direct integration into applications that demand high power density motors with minimum size, weight, and inertia. Non-standard models of the HT series are also available in stator diameters up to 239 mm (9.42 in). Allied Motion can quickly customize any of the HT series designs for your specific needs.
Typical applications for the HT series are semiconductor processing equipment, medical systems including life support, robotic systems, laser sighting and control, and cryogenic cooling pumps, to name a few. Please call our application specialists to discuss your application.
Model No.
HT00800
HT00801
HT00802
HT01000
HT01001
HT01002
HT01003
Motor Constants
Stall Torque (continuous)
oz-in
1.0
2.0
3.0
2.9
5.9
8.9
11.8
Nm
0.007
0.014
0.019
0.021
0.042
0.063
0.084
Demag Torque (±25%)
oz-in
11
27
34
35
75
117
159
Nm
0.07
0.19
0.24
0.24
0.53
0.83
1.12
Cont. Power Output
W
7
11
13
11
17
22
26
Motor Constant
oz-in/√W
0.64
1.10
1.45
1.40
2.62
3.71
4.67
Nm/√W
0.004
0.008
0.010
0.0098
0.018
0.026
0.033
Elect. Time Constant
ms
0.10
0.15
0.21
0.18
0.30
0.39
0.46
Mech. Time Constant
ms
3.4
2.3
2.0
1.8
0.9
0.7
0.6
Thermal Resistance
°C/W
21.1
17.1
14.6
10.8
9.3
8.2
7.4
Viscous Damping
oz-in/RPM
4.3E-6
8.6E-6
1.3E-5
4.3E-5
8.8E-5
1.3E-4
1.8E-4
Nm/RPM
3.0E-8
6.1E-8
9.3E-8
3.0E-7
6.3E-7
9.E-7
1.3E-6
Cogging Torque (max.)
oz-in
0.2
0.6
1.1
0.4
0.6
0.7
0.8
Nm
0.001
0.004
0.008
0.003
0.004
0.005
0.006
Mechanical Constants
Rotor Inertia
oz-in-s2
9.5E-6
1.9E-5
2.8E-5
2.2E-5
4.4E-5
6.6E-5
8.8E-5
kg-m2
6.7E-8
1.3E-7
2.0E-7
1.6E-7
3.1E-7
4.7E-7
6.2E-7
Motor Weight
oz
0.8
1.3
1.8
1.2
2.3
3.3
4.4
kg
0.02
0.04
0.05
0.04
0.06
0.09
0.12
Poles
-
6
Winding Constants
Winding
-
A
Design Voltage
V
24
Peak Torque
oz-in
6
14
18
13
33
56
78
Nm
0.04
0.10
0.13
0.09
0.23
0.39
0.55
Peak Current
A
3.3
6.8
6.3
3.5
6.5
9.5
11.8
Torque Constant
oz-in/A
1.7
2.1
2.8
3.6
5.0
5.9
6.7
Nm/A
0.01
0.01
0.02
0.03
0.04
0.04
0.05
No-Load Speed
RPM
18224
15341
11185
8580
6280
5400
4780
rad/s
1908
1604
1171
898
658
565
501
BEMF Constant (±10%)


V/kRPM
1.3
1.5
2.1
2.7
3.7
4.4
4.9
V/rad/s
0.01
0.01
0.02
0.03
0.04
0.04
0.05
Terminal Resistance (±12%)
Ohms
7.19
3.53
3.83
6.76
3.70
2.52
2.04
Terminal Inductance (±30%)
mH
0.72
0.54
0.79
1.24
1.12
0.99
0.94
Model No.
HT01500
HT01501
HT01502
HT01503
HT01504
HT01505
Motor Constants
Stall Torque (continuous)
oz-in
7
13
19
24
29
33
Nm
0.048
0.092
0.133
0.171
0.204
0.234
Demag Torque (±25%)
oz-in
83
166
254
358
428
506
Nm
0.58
1.17
1.79
2.52
3.02
3.57
Cont. Power Output
W
31
44
55
63
67
71
Motor Constant
oz-in/√W
2.34
4.33
5.94
7.28
8.45
9.47
Nm/√W
0.017
0.031
0.042
0.051
0.060
0.067
Elect. Time Constant
ms
0.28
0.49
0.66
0.83
1.03
1.25
Mech. Time Constant
ms
3.0
1.7
1.3
1.2
1.1
1.0
Thermal Resistance
°C/W
6.6
6.0
5.4
4.9
4.7
4.4
Viscous Damping
oz-in/RPM
6.6E-5
1.3E-4
1.8E-4
2.5E-4
3.0E-4
3.6E-4
Nm/RPM
4.7E-7
9.1E-7
1.3E-7
2.5E-4
3.0E-4
3.6E-4
Cogging Torque (max.)
oz-in
0.7
1.2
1.8
2.5
3.2
3.9
Nm
.005
.009
.013
0.018
0.023
0.027
Mechanical Constants
Rotor Inertia
oz-in-s2
1.0E-4
2.0E-4
3.1E-4
4.1E-4
5.1E-4
6.1E-4
kg-m2
7.3E-7
1.4E-6
2.1E-6
2.9E-6
3.6E-6
4.3E-6
Motor Weight
oz
2.5
4.6
6.8
8.9
11.0
13.1
kg
0.07
0.13
0.19
0.25
0.31
0.37
Poles
-
6
Winding Constants
Winding
-
A
Design Voltage
V
24
Peak Torque
oz-in
30
60
92
130
156
184
Nm
0.21
0.43
0.65
0.92
1.10
1.29
Peak Current
A
6.9
8.1
10.1
13.3
14.2
15.7
Torque Constant
oz-in/A
4.3
7.4
9.1
9.8
11.0
11.7
Nm/A
0.03
0.05
0.06
0.07
0.08
0.08
No-Load Speed
RPM
7301
4290
3499
3283
2917
2744
rad/s
765
449
366
344
306
287
BEMF Constant (±10%)


V/kRPM
3.2
5.5
6.8
7.2
8.1
8.6
V/rad/s
0.03
0.05
0.06
0.07
0.08
0.08
Terminal Resistance (±12%)
Ohms
3.46
2.96
2.38
1.80
1.70
1.53
Terminal Inductance (±30%)
mH
0.96
1.44
1.57
1.50
1.75
1.91
Model No.
HT02000
HT02001
HT02002
HT02003
HT02004
HT02005
Motor Constants
Stall Torque (continuous)
oz-in
16
32
46
59
73
83
Nm
0.114
0.229
0.326
0.416
0.518
0.586
Demag Torque (±25%)
oz-in
188
448
702
886
1077
1278
Nm
1.33
3.16
4.95
6.25
7.60
9.02
Cont. Power Output
W
48
63
73
82
94
97
Motor Constant
oz-in/√W
4.8
9.3
12.7
15.5
18.6
20.6
Nm/√W
0.034
0.066
0.090
0.110
0.132
0.146
Elect. Time Constant
ms
0.25
0.47
0.63
0.80
1.04
1.22
Mech. Time Constant
ms
5.0
2.5
2.0
1.8
1.5
1.5
Thermal Resistance
°C/W
4.8
4.4
4.1
3.8
3.5
3.3
Viscous Damping
oz-in/RPM
2.7E-4
5.5E-4
8.2E-4
1.0E-3
1.3E-3
1.5E-3
Nm/RPM
1.9E-6
3.9E-6
5.8E-6
7.5E-6
9.2E-6
1.1E-5
Cogging Torque (max.)
oz-in
1.1
2.2
2.4
2.9
3.2
3.9
Nm
0.008
0.016
0.017
0.021
0.023
0.028
Mechanical Constants
Rotor Inertia
oz-in-s2
7.3E-4
1.4E-3
2.1E-3
2.9E-3
3.6E-3
4.3E-3
kg-m2
5.2E-6
1.0E-5
1.5E-5
2.0E-5
2.5E-5
3.0E-5
Motor Weight
oz
4.2
7.8
11.4
15.0
18.8
22.3
kg
0.12
0.22
0.32
0.43
0.53
0.63
Poles
-
8
Winding Constants
Winding
-
A
Design Voltage
V
24
Peak Torque
oz-in
129.9
172.6
255
322
392
465
Nm
0.48
1.15
1.80
2.27
2.76
3.28
Peak Current
A
8.6
12.8
16.8
17.8
18.4
21.1
Torque Constant
oz-in/A
8.0
12.7
15.2
18.1
21.3
22.0
Nm/A
0.06
0.09
0.11
0.13
0.15
0.16
No-Load Speed
RPM
3986
2521
2112
1771
1507
1456
rad/s
417
264
221
186
158
153
BEMF Constant (±10%)


V/kRPM
5.9
9.4
11.2
13.4
15.7
16.3
V/rad/s
0.06
0.09
0.11
0.13
0.15
0.16
Terminal Resistance (±12%)
Ohms
2.81
1.87
1.43
1.35
1.31
1.14
Terminal Inductance (±30%)
mH
0.71
0.88
0.90
1.07
1.35
1.39
Model No.
HT02300
HT02301
HT02302
HT02303
HT02304
HT02305
Motor Constants
Stall Torque (continuous)
oz-in
30
61
88
113
137
157
Nm
0.215
0.413
0.620
0.798
0.966
1.105
Demag Torque (±25%)
oz-in
329
675
1035
1298
1561
1838
Nm
2.32
4.76
7.31
9.16
11.0
12.9
Cont. Power Output
W
56
81
97
111
123
129
Motor Constant
oz-in/√W
7.9
15.0
20.8
25.8
30.0
33.6
Nm/√W
0.056
0.106
0.147
0.182
0.212
0.238
Elect. Time Constant
ms
0.34
0.61
0.83
1.04
1.27
1.50
Mech. Time Constant
ms
5.3
2.8
2.2
1.9
1.7
1.6
Thermal Resistance
°C/W
3.7
3.3
3.1
2.8
2.6
2.5
Viscous Damping
oz-in/RPM
8.2E-4
1.6E-3
2.4E-3
3.0E-3
3.8E-3
4.5E-3
Nm/RPM
5.8E-6
1.1E-5
1.7E-5
2.1E-5
2.6E-5
3.1E-5
Cogging Torque (max.)
oz-in
1.9
2.8
3.8
5.0
6.1
7.3
Nm
0.014
0.020
0.027
0.036
0.043
0.052
Mechanical Constants
Rotor Inertia
oz-in-s2
2.1E-3
4.2E-3
6.3E-3
8.5E-3
1.0E-2
1.3E-2
kg-m2
1.4E-5
2.9E-5
4.5E-5
5.9E-5
7.4E-5
8.9E-5
Motor Weight
oz
6.0
11.5
17.0
22.5
28.0
33.4
kg
0.17
0.33
0.48
0.64
0.79
0.95
Poles
-
12
Winding Constants
Winding
-
A
Design Voltage
V
24
Peak Torque
oz-in
97
199
305
382
459
541
Nm
0.68
1.40
2.15
2.70
3.24
3.82
Peak Current
A
6.2
7.2
8.9
9.1
9.7
10.7
Torque Constant
oz-in/A
15.6
27.5
34.3
41.9
47.3
50.3
Nm/A
0.11
0.19
0.24
0.30
0.33
0.36
No-Load Speed
RPM
2027
1161
932
762
676
635
rad/s
212
122
98
80
71
67
BEMF Constant (±10%)


V/kRPM
11.6
20.3
25.4
31.0
34.9
37.2
V/rad/s
0.11
0.19
.24
0.30
0.33
0.36
Terminal Resistance (±12%)
Ohms
3.89
3.32
2.70
2.64
2.47
2.23
Terminal Inductance (±30%)
mH
1.32
2.02
2.24
2.76
3.14
3.36
Model No.
HT02500
HT02501
HT02502
HT02503
HT02504
HT02505
Motor Constants
Stall Torque (continuous)
oz-in
25
55
79
106
131
154
Nm
0.182
0.386
0.558
0.751
0.925
1.089
Demag Torque (±25%)
oz-in
152
331
509
693
876
1058
Nm
1.07
2.34
3.60
4.90
6.19
7.48
Cont. Power Output
W
59
92
111
134
152
167
Motor Constant
oz-in/√W
7.0
14.2
19.5
24.9
29.5
33.4
Nm/√W
0.049
0.100
0.137
0.176
0.208
0.236
Elect. Time Constant
ms
0.48
0.87
1.09
1.31
1.44
1.53
Mech. Time Constant
ms
4.4
2.0
1.6
1.3
1.1
1.1
Thermal Resistance
°C/W
3.6
3.2
2.9
2.6
2.4
2.2
Viscous Damping
oz-in/RPM
3.9E-4
7.8E-4
1.1E-3
1.6E-3
1.9E-3
2.3E-3
Nm/RPM
2.8E-6
5.6E-6
8.4E-6
1.1E-5
1.4E-5
1.7E-5
Cogging Torque (max.)
oz-in
2.0
2.6
3.0
3.5
3.9
4.2
Nm
0.014
0.018
0.021
0.247
0.273
0.298
Mechanical Constants
Rotor Inertia
oz-in-s2
1.3E-3
2.6E-3
3.8E-3
5.1E-3
6.4E-3
7.7E-3
kg-m2
0.9E-5
1.8E-5
2.7E-5
3.6E-5
4.5E-5
5.4E-5
Motor Weight
oz
6.8
13.3
19.7
26.3
32.8
39.2
kg
0.19
0.37
0.55
0.74
0.93
1.11
Poles
-
8
Winding Constants
Winding
-
A
Design Voltage
V
24
Peak Torque
oz-in
76
208
327
474
581
693
Nm
0.53
1.47
2.31
3.35
4.10
4.89
Peak Current
A
4.9
9.1
12.0
15.3
16.5
18.4
Torque Constant
oz-in/A
15.6
22.9
27.3
30.9
35.1
37.7
Nm/A
0.11
0.16
0.19
0.21
0.25
0.26
No-Load Speed
RPM
2040
1400
1180
1040
910
850
rad/s
214
147
124
109
95
89
BEMF Constant (±10%)


V/kRPM
11.5
16.9
20.2
22.9
25.9
27.9
V/rad/s
0.11
0.16
0.19
0.21
0.25
0.26
Terminal Resistance (±12%)
Ohms
4.92
2.64
2.00
1.57
1.45
1.31
Terminal Inductance (±30%)
mH
2.34
2.31
2.18
2.05
2.10
2.00
Model No.
HT03000
HT03001
HT03002
HT03003
HT03004
HT03005
Motor Constants
Stall Torque (continuous)
oz-in
51
114
168
231
270
284
Nm
0.36
0.81
1.19
1.63
1.91
2.01
Demag Torque (±25%)
oz-in
292
618
975
1287
1703
2583
Nm
2.06
4.36
6.88
9.08
12.0
18.2
Cont. Output Power
W
89
130
157
189
200
291
Motor Constant
oz-in/√W
11.2
24.2
33.7
44.2
49.7
50.5
Nm/√W
0.08
0.17
0.24
0.31
0.35
0.36
Elect. Time Constant
ms
0.79
1.36
1.69
1.91
2.00
1.99
Mech. Time Constant
ms
5.4
2.3
1.7
1.3
1.3
1.5
Thermal Resistance
°C/W
2.9
2.6
2.3
2.1
2.0
1.8
Viscous Damping
oz-in/RPM
8.4E-4
2.1E-3
3.4E-3
4.6E-3
5.9E-3
7.3E-3
Nm/RPM
6.0E-6
1.5E-5
2.4E-5
3.2E-5
4.2E-5
5.2E-5
Cogging Torque (max.)
oz-in
2.8
4.2
5.9
8.1
10.4
12.8
Nm
0.020
0.030
0.042
0.058
0.073
0.091
Mechanical Constants
Rotor Inertia
oz-in-s2
4.5E-3
8.9E-2
1.3E-2
1.8E-2
2.2E-2
2.7E-2
kg-m2
3.2E-5
6.3E-5
9.5E-5
1.3E-4
1.6E-4
1.9E-4
Motor Weight
oz
9.8
18.7
27.6
36.7
45.5
54.6
kg
0.28
0.53
0.78
1.04
1.29
1.55
Poles
-
12
Winding Constants
Winding
-
A
Design Voltage
V
24
Peak Torque
oz-in
182
386
609
804
1064
1614
Nm
1.29
2.73
4.30
5.68
7.52
11.40
Peak Current
A
11.0
10.7
13.7
13.8
19.1
42.5
Torque Constant
oz-in/A
16.5
36.3
44.6
58.3
55.7
38.0
Nm/A
0.11
0.25
0.31
0.41
0.39
0.26
No-Load Speed
RPM
1930
880
720
550
580
850
rad/s
202
92
75
58
61
89
BEMF Constant (±10%)


V/kRPM
12.2
26.8
33.0
43.1
41.2
28.1
V/rad/s
0.11
0.25
0.31
0.41
0.39
0.26
Terminal Resistance (±12%)
Ohms
2.17
2.25
1.76
1.74
1.26
0.56
Terminal Inductance (±30%)
mH
1.72
3.06
2.96
3.32
2.50
1.12
Model No.
HT03800
HT03801
HT03802
HT03803
HT03804
HT03805
Motor Constants
Stall Torque (continuous)
oz-in
99
204
290
378
464
546
Nm
0.70
1.43
2.05
2.67
3.27
3.85
Demag Torque (±25%)
oz-in
674
1681
2392
3477
4279
5132
Nm
4.7
11.8
16.9
24.5
30.2
36.2
Cont. Output Power
W
170
241
276
312
349
383
Motor Constant
oz-in/√W
17.7
34.9
48.5
61.6
72.7
82.3
Nm/√W
0.12
0.25
0.34
0.43
0.51
0.58
Elect. Time Constant
ms
0.93
1.77
2.49
3.05
3.67
4.28
Mech. Time Constant
ms
4.1
2.0
1.6
1.3
1.2
1.1
Thermal Resistance
°C/W
1.8
1.6
1.5
1.4
1.3
1.2
Viscous Damping
oz-in/RPM
2.0E-3
4.2E-3
6.3E-3
8.2E-3
9.8E-3
1.1E-2
Nm/RPM
1.4E-5
3.0E-5
4.4E-5
5.8E-5
6.9E-5
8.1E-5
Cogging Torque (max.)
oz-in
2.9
6.1
8.1
10.9
13.9
16.5
Nm
0.020
0.043
0.057
0.077
0.098
0.117
Mechanical Constants
Rotor Inertia
oz-in-s2
8.3E-3
1.6E-2
2.2E-2
3.2E-2
4.2E-2
5.6E-2
kg-m2
5.9E-5
1.1E-4
1.6E-4
2.2E-4
2.9E-4
3.2E-4
Motor Weight
oz
16.7
30.1
43.3
57.0
70.6
83.9
kg
0.47
0.85
1.23
1.62
2.00
2.38
Poles
-
12
Winding Constants
Winding
-
A
Design Voltage
V
100
Peak Torque
oz-in
385
961
1367
1987
2445
2932
Nm
2.72
6.78
9.65
14.03
17.27
20.71
Peak Current
A
4.73
7.54
7.93
10.4
11.3
12.7
Torque Constant
oz-in/A
81.4
127.4
172.3
191.0
216.1
231.0
Nm/A
0.58
0.90
1.22
1.35
1.53
1.63
No-Load Speed
RPM
1639
1052
778
702
621
581
rad/s
172
110
81
74
65
61
BEMF Constant (±10%)


V/kRPM
60.2
94.2
127.4
141.2
159.8
170.8
V/rad/s
0.58
0.90
1.22
1.35
1.53
1.63
Terminal Resistance (±12%)
Ohms
21.12
13.26
12.61
9.61
8.84
7.88
Terminal Inductance (±30%)
mH
19.7
23.5
31.4
29.3
32.5
33.7
Model No.
HT05000
HT05001
HT05002
HT05003
HT05004
HT05005
Motor Constants
Stall Torque (continuous)
oz-in
201
419
623
790
997
1192
Nm
1.41
2.96
4.40
5.57
7.04
8.41
Demag Torque (±25%)
oz-in
1313
3019
4405
5760
7156
8651
Nm
9.2
21.3
31.1
40.6
50.5
61.0
Cont. Output Power
W
271
380
464
498
591
665
Motor Constant
oz-in/√W
30.2
61.2
86.9
108.6
128.0
146.2
Nm/√W
0.21
0.43
0.61
0.76
0.90
1.03
Elect. Time Constant
ms
1.56
3.00
4.14
5.05
5.93
6.87
Mech. Time Constant
ms
4.5
2.4
1.8
1.6
1.4
1.3
Thermal Resistance
°C/W
1.3
1.2
1.1
1.0
0.9
0.8
Viscous Damping
oz-in/RPM
3.6E-3
7.5E-3
1.1E-2
1.5E-2
1.8E-2
2.1E-2
Nm/RPM
2.6E-5
5.3E-5
8.0E-5
1.0E-4
1.3E-4
1.5E-4
Cogging Torque (max.)
oz-in
5.5
13.4
19.1
23.7
29.6
36.2
Nm
0.039
0.095
0.135
0.167
0.209
0.256
Mechanical Constants
Rotor Inertia
oz-in-s2
3.3E-2
6.8E-2
10E-2
13E-2
17E-2
20E-2
kg-m2
2.4E-4
4.8E-4
7.1E-4
9.4E-4
1.2E-3
1.4E-3
Motor Weight
oz
27.1
45.9
64.9
83.7
102.4
121.4
kg
0.77
1.30
1.84
2.37
2.90
3.44
Poles
-
12
Winding Constants
Winding
-
A
Design Voltage
V
100
Peak Torque
oz-in
1010
2323
3389
4431
5505
6654
Nm
7.13
16.40
23.93
31.29
38.87
46.99
Peak Current
A
11.1
14.4
15.2
16.6
18.5
20.7
Torque Constant
oz-in/A
90.6
161.1
223.3
266.5
297.7
321.1
Nm/A
0.64
1.14
1.58
1.88
2.10
2.27
No-Load Speed
RPM
1477
833
602
504
451
418
rad/s
155
87
63
53
47
44
BEMF Constant (±10%)


V/kRPM
67.0
119.2
165.1
197.1
220.1
237.5
V/rad/s
0.64
1.14
1.58
1.88
2.10
2.27
Terminal Resistance (±12%)
Ohms
8.97
6.94
6.59
6.02
5.41
4.83
Terminal Inductance (±30%)
mH
14.0
20.8
27.3
30.4
32.1
33.2