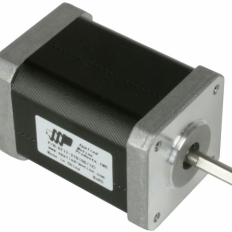 HT17-278 NEMA 17 High Torque Step Motor
Mclennan is delighted to act as stocking distributor and sales partner (UK, Ireland, and France) for the full range of Stepper Motors offered by Applied Motion Products from the USA. We hold many models in stock for immediate delivery and any motor from Applied Motion Products can be obtained on short lead times. For more information contact our Sales and Applications Engineering team.
The HT17-278 two-phase stepper motor is suitable for a wide range of motion control applications. Terminated with 8 motor leads, the motor can be connected in a few different ways, including bipolar series and bipolar parallel.
Part Number w/Double Shaft
HT17-278D
Part Number w/Encoder
HT17-278D-WAA
Lead Wire Configuration
flying leads, no connector
Lead Wire/Cable Length
12 inches inches
Unipolar Holding Torque
79 oz-in
Bipolar Holding Torque
113 oz-in
Bipolar Series Current
1.0 A/phase
Bipolar Series Resistance
6.4 Ohms/phase
Bipolar Series Inductance
12 mH/phase
Bipolar Parallel Current
2.0 A/phase
Bipolar Parallel Resistance
1.6 Ohms/phase
Bipolar Parallel Inductance
3.0 mH/phase
Unipolar Current
1.4 A/phase
Unipolar Resistance
3.2 Ohms/Phase
Unipolar Inductance
3.0 mH/phase
Rotor Inertia
1.74E-03 oz-in-sec2
Storage Temperature
-30 to 70 °C
Operating Temperature
-20 to 50 °C
Insulation Class
Class B (130 ºC)
Maximum Radial Load
4.7 lbs
Maximum Thrust Load
2.25 lbs
Shaft Run Out
0.0012 inch T.I.R. max
Radial Play
0.0008 inch max w/ 1.1 lb load
End Play
0.003 inch max w/ 1.1 lb load
Perpendicularity
0.004 inches
Concentricity
0.002 inches