Geared DC Brushed Motors
Geared Servo Motors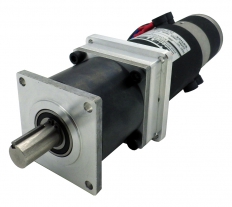 IP57-M500 Series Geared DC Servo Motors
Geared DC Servo Motors
The IP/M500 series geared DC servo motors utilise a high strength planetary gearhead.
Features:
• Low cost due to advanced design and manufacturing techniques
• Controlled backlash for accurate positioning
• High continuous and peak torque capacity
• Wide range of motor options including encoder and tacho feedback
• Wide range of standard gear ratios
• Ideal for packaging systems, conveyors and general purpose industrial systems
Mclennan holds stock of various configurations in the UK for immediate delivery. For technical assistance and details of value added assemblies, including gearboxes and wiring / connector options please contact our sales and applications support team.
GearboxModel
GearRatio n:1
MotorModel
RatedSpeed (rpm)
RatedTorque (Nm)
PeakTorque (Nm)
Max Radial Load( 12 mm from mounting face ) (N)
Max Axial Load (N)
Typical.Backlash (arc. min.)
IP57-M01
5 5
M540 / M586 M543 / M589
500440
0.91.8
4.66.4
560
490

<

20

10
M540 / M586
250
1.8
9.4
10
M543 / M589
220
3.6
12
IP57-M02
25
M540 / M586
100
4
21

<

30
M543 / M589
80
8
24
IP57-M02
50
M540 / M586
50
8
24
100
M540 / M586
25
12
24
IP57-M03
250
M540 / M586
10
20
40

<

40