Brushless DC Servo Motors & Drives
Servo Motors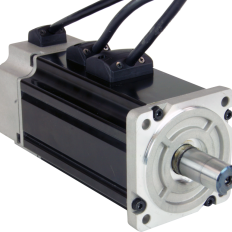 J0750-352-5-000 80mm Servo Motor, 750W, with Brake
80mm Servo Motor, 750W, with Brake
Mclennan is delighted to act as stocking distributor and sales partner (UK, Ireland, and France) for the full range of brushless AC Servo motors offered by Applied Motion Products from the USA. We hold many models in stock for immediate delivery and any motor from Applied Motion Products can be obtained on short lead times. For more information contact our Sales and Applications Engineering team.
High performance brushless AC servo motor. Standard configuration includes high-resolution, incremental encoder feedback.
Please note that a VL series gearhead purchased for this motor will require a special mounting adaptor and 2 weeks lead time. Please contact customer service for the price of this adaptor.
Part Number
J0750-352-5-000
Continuous Torque
21.24 in-lb
Rated Voltage
220 AC volts
Torque Constant
4.7 in-lb/A
Voltage Constant
36.1 V/krpm
Armature Resistance
1.5 Line-to-Line ohms
Armature Inductance
8.0 Line-to-Line mH
Rotor Inertia
0.01373 oz-in-sec2
Integral Holding Brake
Yes
Storage Temperature
-20 to 80 °C
Operating Temperature
0 to 40 °C
Insulation Class
Class B (130 ºC)
Maximum Radial Load
60 lbs
Maximum Thrust Load
20 lbs
Perpendicularity
0.0015 inches
Concentricity
0.0015 inches