Vacuum & Extreme Environment Stepper Products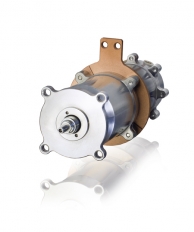 LA Linear Actuator
For Applications in Ultra-High-Vacuum and Cryogenic Environment
Motors for use in vacuum should not only withstand the vacuum (no bursting of air inclusions), they must not contaminate the vacuum either.
Through many years of experience with special materials for use in Space, we have put a focus on materials with minimal molecular outgassing and high heat resistance. This is the prerequisite for a high vacuum quality and genuine measurement results in scientific and medical applications. For exact positioning in vacuum, stepper motors are therefore particularly suitable because they can precisely position even without sensitive feedback providers. Therefore phytron linear actuators can be used in particularly challenging environmental conditions (radiation, cryo-temperatures).
Since stepper motors do not generate jitter effects while holding a position, this technology is ideal for precisely aligning optical instruments, mirrors, antennas or samples e.g. in high-resolution microscopes, particle accelerators or molecular analysis devices.
phytron LA linear actuators for cryo (UHVC1;UHVC2) and UHV (UHVS) are completely dry lubricated.
Technical Details
2-phase stepper tmotor, size 25 mm

phase current 1.5 A in the medium

motor voltage 24 VDC

linear speed 1.5 s/mm
linear stroke 13 mm
axial force: 10 N (with gear 30 N)
positioning accuracy
operating temperature
– cryo version:
UHVC1: -196 to -50 °C
UHVC2: down to -269 °C (on demand)
– UHV version (UHVS): -40 to +200 °C

dry lubricated geeignet for applications in UHV vacuum up to 10-11 hPa, radiation-resistant up to 106 J/kg

features:
– rotatory encoder with switching cam
– linear limit switches for stroke limitation
– temperature evaluation with thermocouple type K

option: with VGPL precision planetary gear