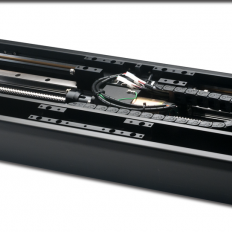 LowBoy Precision Stage (LB)
LowBoy Precision Stage (LB)
LowBoy precision stages have a clean, low-profile package that simplifies integration into OEM machines, especially in stacked axis applications. LowBoy features two drivetrains for different force requirements.
LowBoy Linear is driven by a cog-free linear servo motor rated for up to 280 N of continuous force. It has been used in semiconductor and metrology applications that require a reliable, precise linear motor positioning stage. LowBoy ServoNut is powered by Bell-Everman's driven-nut precision actuator and offers up to 1,560 N of continuous force for use in applications requiring heavier-duty stages.
Speed and Precision. LowBoys reach speeds up to 4 m/s with a bi-directional repeatability of ± 1 encoder count.
Low Profile Design. Even when stacked in a dual-axis configuration, LowBoys have a stacked height of 169 mm.
Integration Options. LowBoys can be configured with an integrated rotary axis. Utilities can exit from the stage end or base. Top plates can be configured to customer specifications. Thanks to their self-contained covers, LowBoys lend themselves to clean room operation.
Rugged Construction. LowBoys feature an anodized aluminium and stainless steel construction. Their linear bearings are lubed for life.
TECHNICAL SPECIFICATIONS

LB-LM
LowBoy Linear Motor

LB-SN
LowBoy ServoNut


Type

Direct Drive Linear




Rotating Nut Drive Linear

Bearing type

Preloaded 4-row ricirculating ball

Length max (m)


1.8

Motor type


Air core 3-phase linear motor




3-phase brushless servo

Lead

N/A

5 mm, 10 mm


Accuracy (µm)Linear accuracy at stage centerline, after two point temperature scale correction.

±4/meter




Angular deviation (arc-sec)Yaw angle maximum in the plane of the base.

±10




Bi-directional repeatability (µm)At stage centerline, linear encoder only. Rotary encoder servonut repeatability dependent on payload and motion profile, but will be in a range from ±4 to ±15..

±2



Encoder type and resolutions:


linear (µm), rotary (CPR)



Renishaw Tonic


1 µm, 0.5 µm, 0.1 µm



Renishaw Tonic of A-B Rotary


1 µm, 0.5 µm, 0.1 µm, 8000 CPR

Speed (m/sec)

4

0.2, 0.4

Continuous linear force (N)

70-280

780-1560

Max shear for 10

6

m @ 2 m/sec (N)


4000




Max shear for 10

6

m @ 0.5 m/sec (N)

16000




Max moment Pitch, Yaw, Roll for 10

6

m @ 2 m/sec (N-m)

250




Max moment Pitch, Yaw, Roll for 10

6

m @ 0.5 m/sec (N-m)

1000




Moving mass (kg)

3.5-4.1




4.7

Chassis mass constants, F, CChassis mass = Length x F+C (kg)

-1, -2 motor: F=0.026
-3 motor: F=0.034


C=1.3

F=.023


C=1.7

Cable length from end of stage, std (±25mm)

2775 - (add 2 m as an option)