Integrated Servo Solutions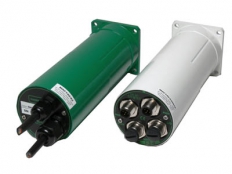 MAC140 - 134W IP67 Version, Integrated Servo motor
IP67 Version, Integrated Servo motor
MAC140 - 134W IP67 Version, Integrated Servo motor is from the The MAC series of brushless servo motors with integrated electronics and represents a major step forward. All the necessary electronics in a servo system are integrated in the motor itself and the installation is simple with no cables between the motor and driver.
MAC050 to MAC141- the complete solution for lower power ratings .Choose between 4 sizes of motor. From 50W to 141W. Also in IP67 versions. Choose Expansion module from the extensive selection for any application.
Please call our Sales and Application Engineering Team for more information.
Rated output @ 4000RPM
134 W
Rated Torque RMS (Nm)
0.32Nm
Weight (kg) (without expansion module)
1.1
Speed range
0-4000RPM with full torque @ 48VDC. Max 4000 RPM
Amplifier control system
Sinusoidal wave PWM control. 15.7kHz switching.
Filter
4th order filter with only one inertia load factor parameter to be adjusted. Expert tuning also available
Feedback
Incremental A and B encoder 4096 CPR. (Physical 1024 PPR )
Input power supply
Single supply 12-48VDC. (absolute max. 50VDC) Active/not active (no load) = 3.7W/3.1W
Control mode
* ±10V Speed and Torque. A B encoder outputs * Pulse/direction and 90° phase shifted A B (Incremental). * RS422 or RS232 (5V) po