Integrated Servo Solutions
Integrated Servo Motor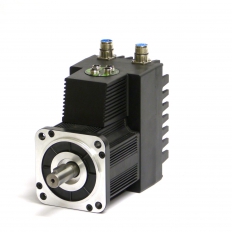 MAC1500-D2 - 1.5kW Integrated Servo motor
Integrated Servo motor
MAC1500-3000 - The complete solution for larger power ratings. All with built-in mains power supply. Choose between model with or without brake. Choose Expansion module from the extensive selection for any application.
The MAC series of brushless servo motors with integrated electronics represents a major step forward. All the necessary electronics in a servo system are integrated in the motor itself. In the past, a traditional motor system has typically been based on a central controller unit located remote from the motor. This configuration however has the negative effect that installation costs are a major part of the total expense of building machinery. The basic idea of the MAC motors is to minimize these costs but also to make a component that is much better protected against electrical noise which can be a typical problem when using long cables between the controller and motor.
For more information contact our Sales and Applications Engineering team.
Rated output @ 3000RPM
1500W
Max. angular acceleration
40000rad/sec2 4
Weight (without expansion module)
10.95kg
Speed range for MAC800-3000
0-3000RPM with full torque. Max 3500 RPM. Overspeed protection if speed>3600=motor will go in passive mode
Amplifier control system
MAC1500-3000: Sinusoidal wave PWM control. 5kHz switching
Filter
6th order filter with only one inertia load factor parameter to be adjusted. Expert tuning also available for professionals
Feedback. Standard incremental
MAC400, MAC402, MAC1500 and MAC3000 : Incremental A and B encoder 8192 CPR. (Physical 2048 PPR )
Control mode
* ±10V Speed and Torque. A B encoder outputs * Pulse/direction and 90° phase shifted A B (Incremental). * RS422 or RS232 (5V) po