Integrated Servo Solutions
Integrated Servo Motor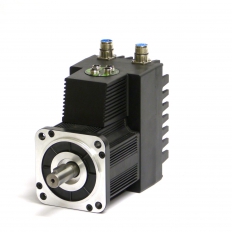 MAC1500-D3 - 1.5kW -IP67, Integrated Servo motor
IP67, Integrated Servo motor
The MAC series of brushless servo motors with integrated electronics represents a major step forward. MAC1500-3000 - The complete solution for larger power ratings. All with built-in mains power supply. Choose between model with or without brake. Choose Expansion module from the extensive selection for any application. All the necessary electronics in a servo system are integrated in the motor itself. Adaptation/replacement of existing step motor/servo systems can therefore be achieved quickly. Parameters are set up via the RS232 port from a Windows program. For more information contact our Sales and Applications Engineering team.
Rated output @ 3000RPM
1500W
Max. angular acceleration
40000rad/sec2
Weight (without expansion module)
10.95kg
Speed range for MAC800-3000
0-3000RPM with full torque. Max 3500 RPM. Overspeed protection if speed>3600=motor will go in passive mode
Amplifier control system
MAC1500-3000: Sinusoidal wave PWM control. 5kHz switching.
Filter
6th order filter with only one inertia load factor parameter to be adjusted. Expert tuning also available for professionals
Feedback. Standard incremental
: MAC400, MAC402, MAC1500 and MAC3000 : Incremental A and B encoder 8192 CPR. (Physical 2048 PPR )
Control mode
* ±10V Speed and Torque. A B encoder outputs * Pulse/direction and 90° phase shifted A B (Incremental). * RS422 or RS232 (5V) po