Integrated Servo Solutions
Integrated Servo Motor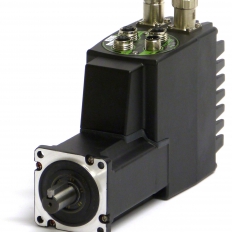 MAC400 - 400W - D2 and D3 Integrated Servo motor
400W - D2 and D3 Integrated Servo motor
The MAC motor®. AC-servo motors with integrated driver MAC400 to MAC3000 represents a major step forward. All the necessary electronics in a servo system are integrated in the motor itself. Adaptation/replacement of existing step motor/servo systems can therefore be achieved quickly. Parameters are set up via the RS232 port from a Windows program. The supply voltage is 115 or 230VAC for the drive MAC400 and MAC800 and 3x400VAC for MAC1500 and 3000 and 24VDC for the control circuit. The motors offer a power of 400, 750, 1500 or 3000W. Standard flanges so that the MAC motor can replace other servo motors directly without mechanical changes. The connectors for the modules can be chosen as DSUB, M12 plug or cable glands. Backlash free and planetary gears in different ratios can be delivered from stock.For more information contact our Sales and Applications Engineering team.
Rated output @ 3000RPM
400W
Max. angular acceleration
-rad/sec2
Weight (without expansion module)
2.3kg
Speed range for MAC400
0-3000RPM with full torque. (Max 3500 RPM shortterm.) Overspeed protection trips at >4300RPM. Motor will shut down
Amplifier control system
Sinusoidal wave PWM control. 20kHz switching.
Filter
6th order filter with only one inertia load factor parameter to be adjusted. Expert tuning also available for professionals
Input power supply for MAC400
115/230/240VAC (±10%) for main power circuit. 18-32VDC for control circuit. Consumption at 115-240VAC - see power supply section
Control mode
* ±10V Speed and Torque. A B encoder outputs* Pulse/direction and 90° phase shifted A B (Incremental).* RS422 or RS232 (5V) posi