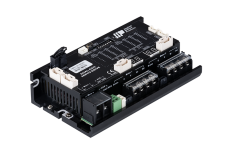 MBDV-2X-520AC DC Powered Dual Axis Servo Drive w/ CANopen and Modbus
Drive Features:
The MBDV servo drive is a DC-powered solution designed for controlling 8-pole servo motors, tailored to meet the needs of the AGV industry. Its features include built-in electromagnetic brake control, dynamic braking capability, regenerative braking configuration, E-Stop presets, and encoder output to primary controllers and safety controllers. These multi-axis drives are tested for safety and compliance with STO (SIL2) standards. Capable of delivering 20 A continuous and 60 A peak current, they offer high power in a compact footprint.
Luna Software:
Packaged with our latest software, Luna, this drive solution empowers developers. It features auto-tuning functions for highly accurate PID loop values, four-channel monitoring via scope, parameter tables for easy editing, and more.
Communications:
Designed for the AGV industry, this drive family can be configured to operate using either CANopen or Modbus field buses. The MBDV multi-axis drive is compliant with both CiA301 and CiA402 standards.
Drive Variations:
The MBDV comes in two variations, single and dual axis. Both feature built-in electromagnetic brake control, dynamic braking, regenerative braking, E-Stop presets, and are STO (SIL2) compliant. The dual-axis model offers encoder output and individual configuration and control for each axis.
Product Description:
Drive Part No.: MBDV
Communications: CANopen and Modbus
Key Features:
Specifically designed for CANopen or Modbus-based networks. Conforms to CiA402 and CiA301 specifications. Supports Profile Position, Profile Velocity, Profile Torque, and Homing Modes for CANopen. Dual ports for daisy chaining applications.
Not Included:
Compatible Motor (required) DC Power Supply (required) I/O cable (optional) Wireless Module (optional)
Regen clamp (optional) USB to USB Mini cable (optional, required for AMP software utilization) Encoder Output cable (optional)
This versatile servo drive is a valuable asset for your AGV applications, offering precise control, safety features, and seamless communication with CANopen and Modbus networks.
Control Modes
CANopen / Modbus RTU
Output Current, Continuous
20 A/phase
Output Current, Peak
60 A/phase
Setup Method
Software setup
Digital Outputs
2 and 1 dedicated brake output (per axis)
Dimensions
164.084 x 92.964 x 46.228 mm
Ambient Temperature Range
0 to 40 °C
Ambient Humidity
10% - 85%, non-condensing
Status LEDs
Digital Display (1 per axis)
Circuit Protection
Short circuit, Over-voltage, Under-voltage, Over-temp
Encoder Feedback
16-bit Encoder Feedback (optional secondary 1,000 line encoder)
Communication Protocols
RS-485 / CANopen
Operating Temperature
0 to 70 °C
Electromagnetic Brake Power
24 VDC
Safety Torque Off (STO)
Built-in
Encoder Outputs
3 channel outputs: ±A, ±B, ±Z