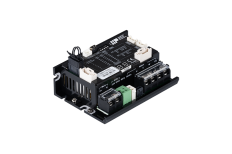 MBDV-520AC-H01 DC Powered Single Axis Servo Drive w/ CANopen and Modbus
Drive Features
The MBDV servo drive is a DC-powered solution tailored for precise control of 8-pole servo motors, thoughtfully designed for the AGV industry. Notable features encompass integrated electromagnetic brake control, dynamic braking capabilities, regenerative braking configurations, E-Stop presets, encoder output for primary and safety controllers, and STO (SIL2) compliance. To meet the robust power demands of AGV applications, it delivers 20 A of continuous current and 60 A peak current in a compact footprint.
Bundled with our cutting-edge Luna software, this drive is a potent tool for development stages. Luna allows users to harness auto-tuning functions for highly accurate PID loop values and provides a suite of monitoring tools, including a four-channel scope and easily editable parameter tables.
Communication
Given the prevalence of CANopen and Modbus field buses in the AGV sector, the MBDV drive can be seamlessly configured for either standard. It adheres to both CiA301 and CiA402 standards.
Drive Variations
The MBDV offers two distinct variations: single-axis and dual-axis. All the features mentioned are present in both, except for encoder output, exclusive to the dual-axis model. Dual-axis drives offer individual configuration and control for each axis, allowing unique NODEIDs and RS-485 addresses for each. This flexibility extends to selecting different operation settings, with the IO connector accommodating individual axes' IO needs.
Control Modes
CANopen / Modbus RTU
Output Current, Continuous
20 A/phase
Output Current, Peak
60 A/phase
Setup Method
Software setup
Digital Outputs
2 and 1 dedicated brake output
Dimensions
107.95 x 80.01 x 42.164 mm
Ambient Temperature Range
0 to 40 °C
Ambient Humidity
10% - 85%, non-condensing
Status LEDs
Digital Display
Safety Torque Off (STO)
built in
Electromagnetic Brake Power
24 VDC
Operating Temperature
0 to 70 °C
Communication Protocols
RS-485 / CANopen
Encoder Feedback 16-bit Encoder Feedback (optional secondary 1,000 line encoder)
16-bit Encoder Feedback (optional secondary 1,000 line encoder)