Integrated Servo Solutions
Integrated Servo Motor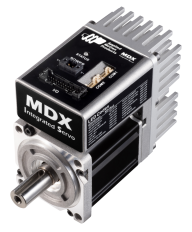 MDXK62GN3 - Integrated Servo Motor, 400 W
The MDX Integrated Servo Motors combine the high torque-density, low rotor-inertia design of J Series Servo Motors with the all-digital servo drive technology of the SV200 Servo Drives. The result is an integrated, all-in-one servo motor where feedback, servo drive and servo controller are housed in the same package as the motor. There are no cables to connect the servo drive to the motor. Power, I/O, and communications can be plugged directly into the connectors on the motor.
Inputs and Outputs
For connecting to external devices such as control signals, limit switches, proximity or photoelectric sensors, PLC I/O, lamps, and other devices, the drive comes with 5 digital inputs, 4 digital outputs and 2 analog inputs. The function of each I/O point is configured with the MDX Servo Suite software. Details on wiring different I/O types can be found in the MDX Hardware Manual (see Downloads section).
Note: Flying lead I/O cable is sold separately, P/N 3004-318 .
Available Part Numbers:
There are two different communication options to choose from, as shown in the table below. MDX integrated Servo motor offer stored program execution using Applied Motion's Q Programming language.
Drive Part No. Communications Description MDXK62GN3R000 RS-485 Dual RS-485 ports for configuration, programming, and networking connections. Stream commands from a host controller to as many as 32 axes using Applied Motion's Serial Command Language (SCL). Built-in support for Modbus RTU communciations. MDXK62GN3C000 CANopen Dual CANbus ports for operation as a slave node on CANopen networks. Conforms to Can in Automation (CiA) DS301 and DS402 specifications. Supports Profile Position, Profile Velocity and Homing modes, as well as the ability to run stored Q programs via Applied Motion-specific CANopen objects.
All MDX integrated Servos are CE approved and RoHS compliant.
Supply Voltage
24 - 60 VDC
Control Modes
Step & Direction, Analogue Torque / Velocity, Streaming Commands, Analogue Positioning, Encoder Following, Q Programming, CANope
Communication Ports
RS-485, CANopen
Setup Method
Software setup
Feedback
Halls + Incremental encoder
Circuit Protection
Short circuit, Over-voltage, Under-voltage, Over-temp
Status LEDs
1 red, 1 green
Continuous Torque
11.2 in-lb
Rotor Inertia
1.23E-01 oz-in-sec2
Operating Temperature Range
0 to 70 °C
Ambient Temperature Range
0 to 40 °C
Storage Temperature
-20 to 85 °C
Ambient Humidity
10 to 85%, non-condensing
Insulation Class
Class B (130 ºC)
Shaft Diameter
14 mm (0.551 inch)
Maximum Radial Load
54 lbs
Maximum Thrust Load
15 lbs