Integrated Stepper Motors
Integrated Stepper Motor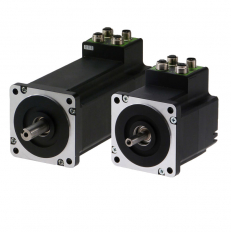 MIS340-MIS343 QuickStep NEMA34 Programmable Integrated ServoStep Motors
NEMA34 Programmable Integrated ServoStep Motors with Closed-Loop, Ethernet, multiturn encoder
The QuickStep, Integrated ServoStep Motors from JVL, supplied by Mclennan.
MIS340 - 3.0/3.0Nm
MIS341 - 6.1/6.1Nm
MIS342 - 9.0/7.5Nm
MIS343 - 12.0/10.0Nm
The QuickStep series of Stepper motors with integrated electronics represents a major step forward. All the necessary electronics in a stepper system are integrated in the motor itself. The stepper motor, encoder and electronics are specially developed by JVL so that together they form a closed unit in which the power driver and controller are mounted inside the motor in a closed section with protection up to IP67, and stainless steel shaft AISI303 as standard on all models.
Choose between wireless Bluetooth, WLAN or Zigbee or Industrial Ethernet Profinet, Ethernet/IP, EtherCAT, Powerlink, MODBUS TCP/IP, RS485 and PLC built-in are standard.