Geared DC Brushed Motors
Geared Servo Motors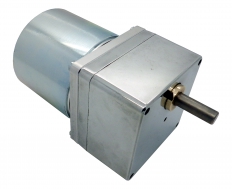 MRIG-M66 Series Geared DC Motor
Series Geared DC Motor
The MRIG/M66CE Series geared dc servo motor is ideally suited to light industrial applications and provides an excellent combination of high performance, long life and low cost.
The MRIG gearhead utilises a robust cast housing and hardened metal gears to provide high torque and smooth operation. Standard units are provided with sleeve bearings on the output stage, ball bearings being available if increased radial loading is required.
The motors utilise a skew wound ironless rotor construction and high strength magnets to provide smooth low speed operation with the consequential benefits of low running noise and long life. A wide range of options, particularly on the more powerful M66 series enable the design engineer to select the optimum feedback device such as a dc tachogenerator for analogue control or an incremental encoder when digital control of speed or position is required.