Housed Intelligent Stepper Drives
Vacuum & Extreme Environment Stepper Products
Housed Panel Mounted Control Systems & Solutions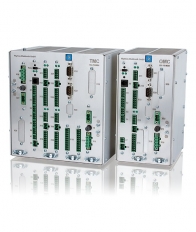 OMC/TMC: Compact Stand-alone Controls for 1 or 2 axes and Multi-Axis Systems up to 30 Axes
Multi Axis Programmable Stepper Motor Controller
The intelligent motion controllers OMC and TMC are small, simple and compact stepper motor control units for 2-phase stepper motors up to 9 APEAK phase currents with 70 V motor voltage. The connection of external power stages allows to connect larger stepper motors e. g. 17 APEAK at 140 V motor voltage. The controllers are applicable for more complex processes and motion sequences because of the circular interpolation and changes of frequency and target position during the run.
OMC offers 16 inputs, which are electrically isolated from the controller board, and 8 overload protected outputs. TMC has 32 inputs and 16 outputs. Two signal inputs are available for each axis to connect the limit switches. The controllers can be supplied from 24 up to 70 VDC or 17 up to 50 VAC. OMC and TMC are designed for DIN rail orOMC/TMC are programmed in the well-tried MiniLog format. The user-friendly MiniLog-Comm®, Windows® PC software for configuration and programming, is included in delivery.
A Remote/Local switch makes it possible to start and execute the saved program routines without connection to the superior control. Each OMC or TMC control unit can be used in single or multi-axis mode.
Stand-alone mode for single devices The controller is able to execute program sequences without connection to PC. Stand-alone multi-axis mode Up to 30 axes can be simltaneously operated by PC: RS 422/RS 485-4-wire bus mode. Master-slave mode The connector with the address '0' is defined as master. The instructions are sent from the PC to the master and from the master to the slave controllers (up to 8 axes).
Technical Details
Programmable stepper motor controller for 1 or 2 axes
Bipolar control of 2-phase stepper motors
Phase currents up to 9 A

PEAK

Supply voltage 50 V

AC

to 70 V

DC

Step resolution up to 1/20 step
RS 232 or RS 485 interface
Programming in the well-tried MINILOG format
Analog inputs e. g. for joystick
SFI step failure indication
Incremental or absolute encoders can be connected
16 digital inputs / 8 digitale outputs per axis
Interface for the BT5 AM operator panel
Compact design for DIN rail or wall mounting

New:

Linear and circular interpolation of two axes

New:

Change of frequency and target position during operation

New:

ProfiBus interface - GSD file

Available Models

1 or 2 axes controller
Built-in power stages or optional connection of external power stages
RS 232 or RS 485 interface
Additional boards (for 1 or 2 axes): step failure indication SFI or AD converter
With mounted fans
DIN rail or wall mounting kit