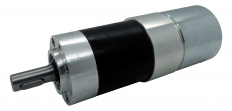 P62-M66 Geared DC Servo Motor
Geared DC Servo Motor
The P62-M66 series geared DC servo motors utilise a high strength planetary gearhead.
Low cost due to advanced design and manufacturing techniques
Controlled backlash for accurate positioning
High continuous and peak torque capacity
Ironless rotor low inertia servo motor including encoder and tacho options
Wide range of standard gear ratios
Ideal for packaging systems, conveyors and general purpose light industrial systems
We do not have a data sheet for this product. If you are interested, please feel free to ask a member of staff.