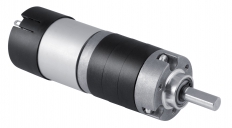 PS150 Geared Planetary Motor
Geared Planetary Motor
The PS150 is a geared planetary DC motor and is ideally suited to a wide range of applications requiring a combination of low speed operation and small unit size.
The unit, which is suitable for mounting in any attitude, provides reliable operation over a wide ambient temperature range and is equipped with an integral VDR ( voltage dependant resistor ) electrical suppression system to minimise electrical interference.
The PS150 unit offers a range of gear ratio options for operating speeds from 8-2000 rpm and is ideally suited to applications where small size and low unit price are important design criteria.
Mclennan holds stock of various configurations in the UK for immediate delivery. For technical assistance and details of value added assemblies, including gearboxes and wiring / connector options please contact our sales and applications support team.