Eurocard Stepper Drives
Housed Intelligent Stepper Drives
Eurocard System Components
Eurocard Housed Control Systems & Solutions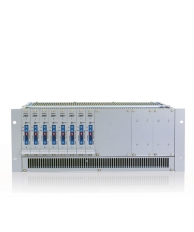 SLS : Sub rack with built-in MSX and ZMX+ stepper motor power stages
Sub Rack with built in stepper drives.
Phytron's SLS housings are for up to 8 ZMX+ or 4 MSX stepper motor power stages with power supply. Besides the standard designs we also offer individually configured units, which are designed with phytron's ZMX+ and MSX power stages for different stepper motor types.
Application: The SLS was conceived as an all-in-one solution oriented to satisfy the needs of our customers for a 19" format. Power supply and fans are integrated into the housing according to the requirements in addition to the power stages. With up to 15 A PEAK for each axis, the SLS is pre-wired, ready for connection, and ideal for demanding multi-axis applications like large manipulators, handling tasks, rapid prototyping or scientific experiments for example in the field of particle accelerators. In addition, the SLS is the ideal extension for existing controller environments like our modular phyMOTIONTM controller, the standard PLC systems or the PC cards with pulse outputs.
Technical Details
Plug-in 3U power Euromodule with Power stages

Integrated supply unit:
115 VAC, 230 VAC or 400 VAC

Integrated housing fan and fuses

Stepper motor power stages:
ZMX+ with 40/70 V motor voltage and ServicesBus
MSX with 90/120 V motor voltage

Adjustments of the power stages on the front panel

Interfaces on the rear:
Signal connectors
Motor connectors
Temperature sensitive switch for monitoring the transformer
temperature
Communication connector: RS 232 or RS485
Additional connectors according to customer requirements