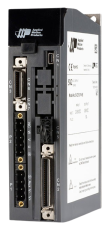 SV200 Series - DC Powered Servo drives w/ multiple fieldbus options
SV200 Series - DC Powered Servo Drives with Diverse Fieldbus Options by Applied Motion Products
Welcome to the world of Applied Motion Products and our outstanding SV200 Series of DC-powered servo drives. These exceptional drives are designed to provide superior performance while offering outstanding value for your motion control applications.
Key Features:
Rapid Settling Times: Our SV200 Series is renowned for its swift settling times, ensuring that your system achieves precision within an astonishingly short time frame of 0 to 2 milliseconds.
Auto-Tuning: Experience the convenience of automated tuning, allowing the system to optimize tuning parameters autonomously, dramatically reducing the time and effort required for initial setup.
Anti-Vibration Function: The built-in anti-vibration function is engineered to diminish and, in many cases, completely eliminate vibrations that may originate from the inherent mechanical characteristics of your load.
Control Modes for Versatility: Choose from a wide range of control modes that cater to the unique needs of your applications, including Analog Positioning, Analog Torque / Velocity, CANopen, Encoder Following, EtherNet/IP, Modbus RTU, Modbus TCP, Q Programming, Step & Direction, and Streaming Commands.
Adaptable Communication Protocols: Our drives offer seamless integration into your control systems, thanks to their compatibility with various communication protocols, such as CANopen, Dual-port, Ethernet, EtherNet/IP, RS-232, and RS-485.
Diverse Voltage Options: To accommodate a variety of power sources, our drives can operate at voltages such as 24-60 VDC.
Precision with 16-bit Encoder: The SV200 Series is now equipped with absolute 16-bit encoders, ensuring unparalleled precision in your motion control applications.
The Applied Motion Products SV200 Series of DC-powered servo drives empowers you to take control with confidence. Whether you need precise positioning, high torque, or reliable motion control, these drives are your ideal choice. For inquiries, quotes, or to discuss how our SV200 Series can elevate your applications, our expert team is ready to assist you. Elevate your motion control to new heights with the versatile and high-performance SV200 Series!
| Model | Description | Supply Voltage | Output Current, Continuous | Output Current, Peak | Communication Protocols |
| --- | --- | --- | --- | --- | --- |
| SV2D10-IP-DE | DC powered Digital Servo Drive w/ Ethernet IP interface | 24-60 VDC | 12 A/phase | 30 A/phase | Dual-port, EtherNet/IP, Ethernet |
| SV2D10-P-NE | DC powered Digital Servo Drive | 24-60 VDC | 12 A/phase | 30 A/phase | N/A |
| SV2D10-Q-AE | DC powered Digital Servo Drive w/ On-board motion control | 24-60 VDC | 12 A/phase | 30 A/phase | RS-232 |
| SV2D10-Q-DE | DC powered Digital Servo Drive w/ On-board motion control | 24-60 VDC | 12 A/phase | 30 A/phase | Dual-port, Ethernet |
| SV2D10-Q-RE | DC powered Digital Servo Drive w/ On-board motion control | 24-60 VDC | 12 A/phase | 30 A/phase | RS-485 |