Vacuum & Extreme Environment Stepper Products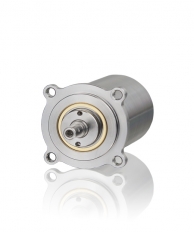 VSS SPACE: 19 - 125 mm Stepper Motors
Stepper Motors
With more than 25 years and 250 motors in space we excel in providing reliable solutions for high precision space applications: In house engineering, manufacturing and titanium processing for optimal weight, stiffness and fit; Outgassing, clean room assembly, optimised stray magnetic flux or EMC shieldings - we are looking forward to creating the perfect fit for your project!
Technical Details
Read more about our Heritage and References in Space.
Stepper motors for operation in space
High shock and vibration loads
Vacuum up to 10-11 hPa
Temperature ranges depend on the application
Radiation resistance up to 106 J/kg
Holding torques from 3.4 mNm to 9.9 Nm
Diameters 19 to 125 mm
Full steps per rotation: 500 (0.72°), 200 (1.8°), 72 (5°)
Outgassing holes to avoid pockets of trapped gas
Optional:
Gear (e. g.: VPGL low backlash gear) - Double shaft - etc.
Customised constructions:
Integrated motor gear types for reduction of weight and vibration resistance - Titanium housing etc.